AU launches new program in behavioral neuroscience
March 10, 2023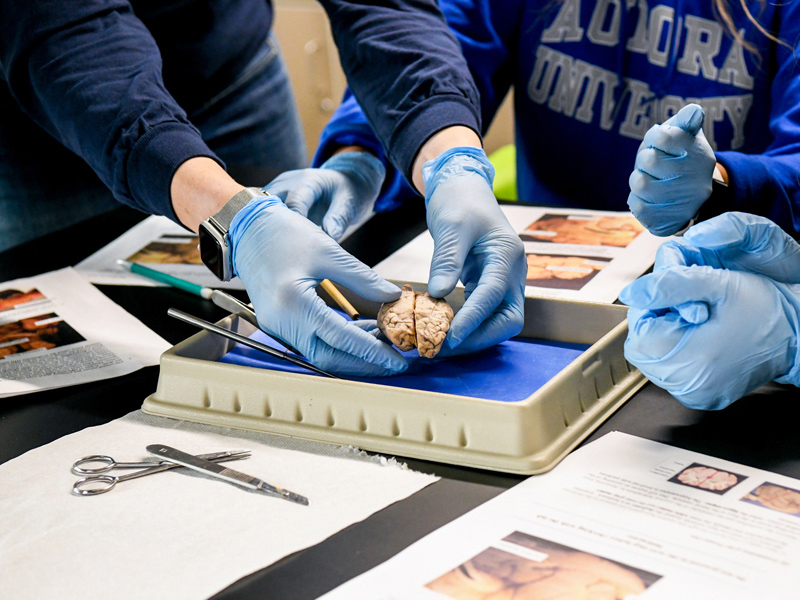 In a move to expand the popular Health Science and Psychology programs, AU is introducing Behavioral Neuroscience as an undergraduate major for the 2023-2024 academic year.
What is behavioral neuroscience?
Behavioral Neuroscience is the study of how behavior is influenced by biological factors, including the brain and other mental processes. While psychology observes behaviors and processes, neuroscience delves deeper into the human mind by looking at the biological and chemical processes in the brain and nervous system.
"Research into the brain is changing the way we understand normal behavior and the way we understand and treat mental illness and degenerative disorders, such as Alzheimer's and Parkinsons," explained Valerie Flynn, professor and interim chair of psychology at AU. "There is increasing demand for individuals trained in this area. By introducing this fast-growing area of study into our science and psychology programs, we are working to fulfill our mission to create a promising future for our students."
Who should major in Behavioral Neuroscience?
Students majoring in Behavioral Neuroscience should be interested in scientific research as well as psychological theory and research. Those interested in the program may benefit from a background in biology, chemistry, statistics, and psychology, whether that be from high school, community college, or entry-level undergraduate coursework.
What is the Behavioral Neuroscience major at AU?
As a Behavioral Neuroscience major, students will develop an interdisciplinary knowledge base for future employment or graduate studies by completing coursework in biology, chemistry, behavioral neuroscience, and psychology. Students will develop foundational skills in scientific reasoning, statistical analysis, and research design, which they will then put into practice through laboratory experiences, research projects, and professional internships.
What are the career possibilities for Behavioral Neuroscience majors?
AU's Behavioral Neuroscience program is designed to prepare students for a career as a clinical research assistant, laboratory technician, pharmaceutical researcher, or institutional researcher. It also provides a strong foundation for graduate studies in biology, medicine, psychology or psychiatry. By continuing onto advanced degree programs, students will be qualified for careers as a clinical psychologist, college professor, pharmacist, physician, and research scientist, to name a few.
Ready to dive into the field of behavioral neuroscience?
Fill out this form to learn about Aurora University.
Loading...