Aurora University launches Betty Parke Tucker Center for Neurodiversity to support college students on the autism spectrum
November 02, 2021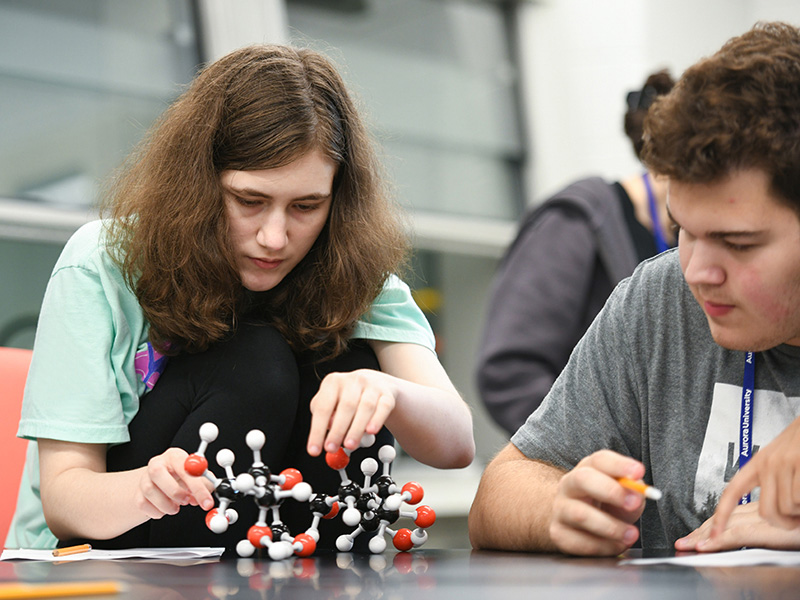 Aurora University today announced the new Betty Parke Tucker Center for Neurodiversity to support students on the autism spectrum as they earn their college degrees and take their first steps toward launching their careers. The center will house AU's Pathways Program for college-capable students with autism spectrum disorder (ASD) and include a first-of-its-kind, newly constructed residence hall with sensory supportive features designed specifically for college students with ASD. The residence hall will house both neurodiverse and neurotypical students as part of the university's effort to integrate students with autism into campus life.
AU will welcome its first class of college freshmen and transfer students on the autism spectrum into the Pathways Collegiate Program for the 2022-2023 academic year, and applications are already underway.
"We are thrilled to be one of the first universities in the nation to welcome college-capable students on the spectrum to a fully immersive campus experience that will help them reach their potential in their studies and their careers," said AU President Rebecca L. Sherrick. "These young people have so much to share and contribute. We know that when provided with the right support, the right environment, the right encouragement, college-capable students on the spectrum will earn their degrees and take meaningful roles in society and productive roles in the workplace."
The Betty Parke Tucker Center for Neurodiversity was made possible by a $1.3 million gift from alumnus Don Tucker '51 in memory of his late wife Betty Parke Tucker '52. A graduate of Aurora College, Betty Parke Tucker devoted more than 40 years to the education community as an elementary teacher, guidance counselor, and school psychologist. She had a heart for students who didn't adjust easily and made it her life's work to help lift them up. The lead gift in her honor establishes a fund to support AU students with ASD and exemplifies her lifelong commitment to education and her belief that students facing challenges have the capacity to excel — provided educators create the right structure and support.
According to the Centers for Disease Control and Prevention, the rate of ASD diagnosis in the U.S. is one in 54 children, more than double the rate of 1 in 110 a decade earlier – making ASD the fastest-growing developmental disability in the U.S. An estimated 44 percent of individuals with ASD have IQs of average to above-average, and a portion of these students are capable of succeeding at a university, if only they have the right support.
Yet, services for teenagers with ASD come to a virtual halt after high school, just as families need them most. Researchers describe this support deficit as a "services cliff," because parents often feel as if their children are about to fall off a cliff, with little help in sight.
AU is stepping into the gap with its Pathways Program. The broad-based program provides a bridge for students with ASD and their families, helping them to make the transition from high school to college and from college to career.
Distinctive Elements of the AU Collegiate Experience for Students on the Autism Spectrum
First-Of-Its-Kind Residence Hall: Building on Aurora University's 100-plus year history of opening doors to higher education for diverse students from all walks of life, AU is building a new, state-of-the-art residence hall with sensory supportive spaces designed specifically for students on the autism spectrum. The spaces are designed with the goal of alleviating anxiety so that students can focus their energy and emotions on a positive college experience. The five-story, integrated residence hall is slated to open in late 2022 to both neurodiverse and neurotypical students.
Weekly Advisor Meetings and Peer Mentors: Students will work with an expert team to develop an individualized plan to address executive, social and emotional functioning, and independent living skills and then will meet weekly with their assigned advisor to ensure they have the support they need to succeed. Each student is also paired with an AU student mentor trained in supporting individuals on the spectrum.
Career Exploration Experience: An increasing number of companies are creating inclusive environments with resources to support neurodiverse talent. During their junior and senior years, students will be paired with a community mentor in their field of interest who will teach them valuable career skills and provide shadowing opportunities to practice professional social skills and more.
AU also provides high school and transfer students on the autism spectrum an opportunity to get a preview of college life through AU's Pathways Summer Camps and Pathways College Connections programming.
"Society has an increasingly important stake in not only supporting individuals with autism, but welcoming them into our communities," said Brianne Jonathan, '11, MA '15, director of AU's autism initiative and Pathways Program. "While many of these students have the cognitive ability and desire to succeed in college, communication and social impairments can stand in the way. At AU, we can support them with the right educational structure that makes it possible for them to thrive."