Nursing (BSN)
Why study Nursing?
The profession of nursing is changing rapidly. Nurses are the leaders of the healthcare field, and in many communities, they are on the front lines of healthcare when people get sick. Modern nursing goes beyond the hospital and doctor's office. Nurses are everywhere. They work in patient homes, public health clinics, corporate wellness departments, research labs, long-term care facilities, schools, medical flight firms, and the military. Nurses also play a big role in educating the public and addressing the social and economic causes of health issues.
Why study Nursing at AU?
AU has one Bachelor of Science in Nursing program in two locations: the AU main campus in Aurora, Illinois, and George Williams College of Aurora University in Williams Bay, Wisconsin. The nursing curriculum is the same at both locations, meaning students take the same nursing courses regardless of location.
Aurora University's Nursing program is one of the most respected in the region. The program prepares you to take the NCLEX-RN, a nationwide examination for the licensing of registered nurses. After graduation from the School of Nursing, you must pass the NCLEX-RN examination to become licensed as a registered nurse.
At AU, you can begin nursing classes immediately in your first year. That's unlike many other colleges that require you to wait until your sophomore or junior year to begin taking classes in the subject.
You will work closely with dedicated faculty in AU's state-of-the-art nursing and simulation labs to develop the knowledge and skills you need to succeed in the ever-changing healthcare environment. You will apply those skills and gain hands-on experience as part of your clinical rotations, learning from experienced nursing faculty.
Following graduation, you will be prepared to enter the workforce as a baccalaureate-trained nurse, a highly recruited position in today's healthcare market. You will also be ready to take your nursing license exam, a requirement to get your first job in nursing.
AU has been preparing students for careers in nursing since 1947. Today nursing is among the most highly respected careers. Registered nurses make up the largest contingent of the healthcare workforce – far more than doctors. And they make a good living.
Accreditation
The baccalaureate degree program in nursing at Aurora University is accredited by the Commission on Collegiate Nursing Education, 655 K Street NW, Suite 750, Washington, DC 20001, 202-887-6791.
For 20 consecutive years, Americans have rated nurses as the No. 1 most ethical and honest profession. Gallup Poll 2021
$81,220
2022 annual median salary for registered nurses
6%
2022-2032 projected job growth rate
Source: 
U.S. Bureau of Labor Statistics
Nearly nine out of 10 employers surveyed strongly prefer to hire new nurses with a bachelor of science in nursing degree. American Association of Colleges of Nursing
Curriculum Highlights
Anatomy
Biology
Chemistry
Leadership
Pharmacology
Psychology
Campus Opportunities
AU Science Organization
Aurora Men in Nursing
Student Nurses' Association, AU Chapter
Why join the community of AU nursing students: As an AU nursing student, you will discover passionate faculty, supportive cohorts, and state-of-the-art nursing and simulation labs that will prepare you to succeed as a nurse in a wide variety of settings.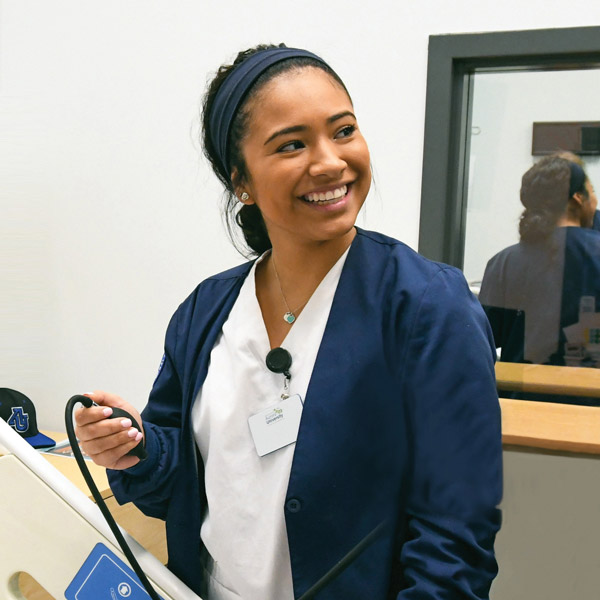 Experiential learning
Nursing students gain hands-on experience at our high-fidelity simulation laboratory. In the lab, you will work with a human patient simulator that mimics the situations you will face every day as a practitioner. Students also take part in clinical experiences at hospitals, clinics, and community health settings. Throughout your degree program, your professors will work with you in your clinical experiences to best prepare you for professional practice. They will serve as your nurse mentor.
Nursing Lab Virtual Tour
Career possibilities
Community mental health specialist
Correctional health facilitator
Critical care nurse
Disaster relief nurse
Family healthcare/nursing
Infection control/epidemiology nurse
Maternal/Child nurse
Medical/Surgical nurse
Occupational health nurse
Oncology nurse
Public health nurse
Rehabilitation nurse
Transcultural nursing
Trauma/Emergency department nurse
Where our graduates work
Amita Health Adventist Medical Center Hinsdale
Amita Health Mercy Medical Center Aurora
Amita Health St. Joseph Hospital Elgin
Ann & Robert H. Lurie Children's Hospital of Chicago
Edward Hospital
Hillside Rehab & Care Center
Illinois Youth Center
Mount Sinai Hospital
Northwestern Medicine Central DuPage Hospital
Northwestern Medicine Delnor Hospital
Northwestern Memorial Hospital
Rush Copley Medical Center