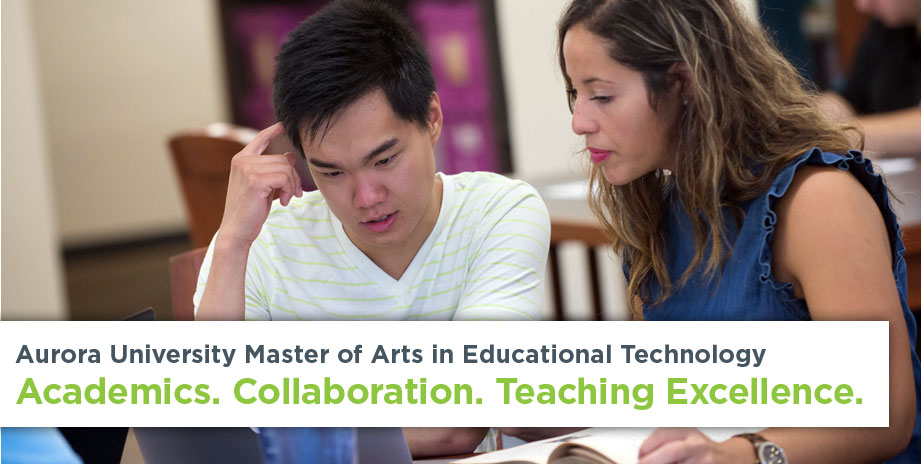 Cohorts are now forming in Aurora, Hillside, Joliet, Peoria, the LaSalle/Peru/Ottawa area and at the AU Woodstock Center.
Academics
The Master of Arts in Educational Technology (MAET) is designed for experienced practicing educators to effectively plan and assess students' mastery of skills relevant to learning technologies. The program will assist educators to incorporate blogs, podcasting and media production into classroom objectives. Cohort members will also learn to apply effective methods and strategies for teaching technology concepts and skills to fellow educators. Graduates of the program serve as technology specialists in the classroom as well as district technology experts.
Collaboration
The MAET program is delivered in cohort format with school district and regional office of education partners. Courses are held both on the campus as well as convenient on-site locations throughout central and northern Illinois. Previous cohort partners include the Kane ROE and Fox Valley area educators, Oswego, Aurora, Bloomingdale and Eureka/Peoria area. Collaboration with classroom, school and district partners promotes valuable shared learning experiences.
Teaching Excellence
School of Education faculty members are a diverse group of highly skilled professionals. Courses in the educational technology program are offered in cohort format with some blended offerings to promote the use of the latest innovations in telecommunication systems, digitized video and distance learning tools.
Find a Cohort Near You
To learn more information about cohorts forming in your area, complete the form below.
Loading...