Sport Management (MBA Track)
MBA Plus One's Sport Management Track
The sport industry is big business. Valued at nearly $620 billion globally, it is a growing industry and constantly changing. If you aspire to follow your passion and develop business skills that are valued in amateur, collegiate, and professional sport organizations, this streamlined program allowing you to earn your MBA in just one year could be for you.
Why earn an MBA Plus One focused on Sport Management at Aurora University?
In Aurora University's MBA Plus One program's Sport Management track, you will discover the many paths available to work as a professional in the sport industry.
AU's MBA Plus One program is designed to quickly prepare students to succeed in a competitive market, a factor that is particularly important in the ultra-competitive world of sports. The goal of the program is to allow students to increase their earning potential and find new opportunities for professional growth, leading to a rich career filled with opportunities for advancement.
In the yearlong program of study, you will become adept at networking, leading, and communicating, while also completing an internship working with professionals at a sport organization. You will quickly develop skills in sales, marketing, and administration — all within the context of sports and athletics.
Students will apply their knowledge outside of the classroom, as internships and immersion opportunities are an integral part of this program. Students will learn about concepts like ethics, management, and ticket sales and then see how these concepts play out in the sports world.
All of AU's courses are taught by experienced professors, and the program is well-connected with sport organizations across Chicagoland. Coursework will prepare you for an internship at a sport organization, where you will continue to refine your knowledge. Students will also be given a laptop and textbooks as part of their tuition.
Fast time to completion – This is a one-year degree, featuring a 10-week summer term, two eight-week fall modules, and two 8-week spring modules, which will include a professional internship.
Varied classes – The MBA Plus One's Sport Management track features classes that will give students the knowledge base they need to work in sports. Classes include Leadership and Organizational Behavior, Strategic Management, and Interdisciplinary Relationships on a College Campus.
Convenient location – Chicagoland is filled with great sport organizations offering internship opportunities within commuting distance from the main AU campus.
Students in the MBA Plus One's Sport Management track program come in with a dream of working for a prominent sport organization. Some leave working for their favorite organization, others find an entirely different direction than they thought possible. Best of all, students gain an understanding of what it takes to thrive in the sports world. By completing the MBA Plus One's Sport Management track, working in sports can go from a dream to reality.
Curriculum Highlights
A one-year, hands-on MBA program
Professional internship experience is built into the program
Students find real career opportunities in sports through networking with professionals
Learn about sport partnership, marketing, and sales
Interdisciplinary relationships on a college campus
Immersion trips to sport organizations
Experiential learning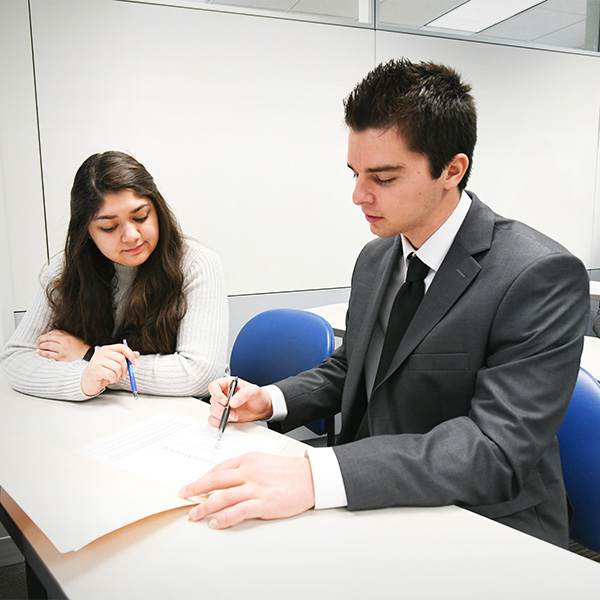 You will apply your knowledge outside of the classroom, as internships and immersion opportunities are built into the program. After learning about concepts, including ethics, management, and ticket sales in the classroom, you will have authentic opportunities to apply those concepts in the sport world.
Sample MBA Plus One (Sport Management Track) Schedule
Term
Classes

Summer
June-August
10-week day courses

Marketing Management (3)

Leadership and Organizational Behavior (3)

Budgeting and Financial Management (3)

Operations Management (3)

Fall
August-December


8-week day courses; 2 sessions

Networking and Career Options in the Sports World (3)

Sport Ticket Sales (3)

Sport Partnership Marketing Sales (3)

Interdisciplinary Relations in the Sports World (3)

Spring
January-May


8-week day courses; 2 sessions

Ethics and Decision Making (3)

Strategic Management (3)

Human Resources Management (3)

MBA Internship (3)
Career possibilities
Administrator
Agent
Coach
Event planner
Facilities or stadium manager
Finance manager
Marketing manager
Sales manager
Ticket operations manager
Where our students intern and graduates work
Aurora University
Chicago Bears
Chicago Bulls
Chicago Cubs
Chicago Dogs
Chicago Fire
Chicago Red Stars Professional Women's Soccer
Chicago Sky
Chicago Steel
Chicago Wolves
Hurricane Junior Golf Tour
Kane County Cougars
NOW Arena
Office of the Commissioner of the American Association of Professional Baseball
Professional Golf Association (PGA)
Supreme Courts Basketball