Healthcare (MBA Track)
MBA Plus One's Healthcare Track
The healthcare industry ranks among the largest and fastest growing sectors of the U.S. economy. Consumer demand for services is thriving fueled by an aging baby-boomer population, longer life expectancies, and continued growth in the number of patients with chronic conditions.
Learning to be an effective leader in healthcare is essential to promoting safe, high-quality, and compassionate care. If you want to excel in a career at the intersection of healthcare and business, this streamlined program allowing you to earn your MBA in just one year could be for you.
Why earn an MBA Plus One focused on Healthcare at Aurora University?
AU has a long history of training leaders in the helping professions. As an MBA candidate focusing on healthcare at AU, you will acquire the skills, knowledge, and compassion to lead effectively and have a positive impact on the dynamic and complex healthcare industry.
The Healthcare track within AU's Master of Business Administration (MBA) Plus One program is designed for students seeking business leadership opportunities in the healthcare industry. As an AU MBA candidate, you will establish a strong foundation from which to advance your career in administrative, management, and operations within healthcare organizations.
Your courses will teach you about cultural competence and professional effectiveness, comprehensive healthcare management, healthcare financing, and healthcare information management.
Who should consider an MBA with a Healthcare focus?
You want to expand your business career opportunities by understanding how complex healthcare systems work. In AU's Healthcare (MBA track), you will develop an understanding of cultural nuances, while also strengthening your ability to talk to healthcare providers and partners about government policies and their impact on business.
You want to work in an industry that is stable and growing. The healthcare industry makes up 18 percent of the U.S. economy, and it's one of the fastest growing industries in the world. The career opportunities are vast and diverse. The field includes hospitals, medical centers, insurance companies, pharmaceutical companies, medical supplies, marketing and analytics firms, technology companies, and nonprofit research organizations. In AU's Healthcare (MBA track), a professional internship is built into the program, so you can gain hands-on experience in your specific field of interest.
You are already working in the healthcare field and are familiar with medical concepts and patient care or want to open your own practice. An increasing number of physicians and healthcare practitioners are earning their MBAs to gain business knowledge and improve their managerial skills. In AU's Healthcare (MBA track) you will learn about finance, budgets, operations, marketing, policy analysis, and human capital development so you can advance your role as a healthcare manager, administrator, or executive.
$104,830
2022 annual median salary for medical and health services managers
28%
2022 annual median salary for medical and health services managers
Source: U.S. Bureau of Labor Statistics

The healthcare field is the largest source of jobs in the U.S. and ranks among the fastest-growing professions.
U.S. Bureau of Labor Statistics
About the MBA Plus One program
AU's MBA Plus One program allows you to complete your master's degree in just one year. The program begins in June and finishes the following May. Classes are offered during the day at AU's main campus.
The MBA Plus One program offers a comprehensive curriculum designed to give you a broad understanding of business operations and hone your problem-solving and team-building skills. You'll apply business theory and research to current business trends and real-world case studies, and you'll learn from professors who are established experts in their fields.
Experiential learning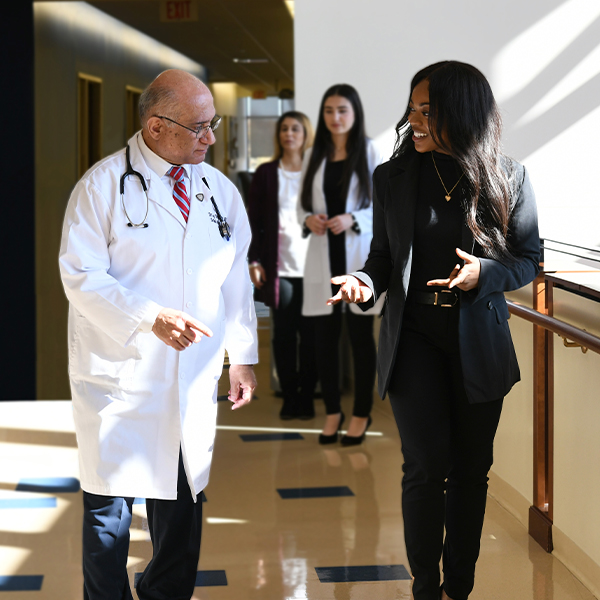 Internships and immersion opportunities are built into the program. You will learn about cultural competency, healthcare information management, and finance, as well as develop skills in ethics, marketing, and administration. You will be prepared to apply that knowledge outside of the classroom.
Sample MBA Plus One (Healthcare Track) Schedule
Term
Classes

Summer
June-August
10-week day courses

Marketing Management (3)

Leadership and Organizational Behavior (3)

Budgeting and Financial Management (3)

Operations Management (3)

Fall
August-December


8-week day courses; 2 sessions

Cultural Competence and Professional Effectiveness (3)

Healthcare Finance (3)

Healthcare Information Management (3)

Comprehensive Healthcare Management (3)

Spring
January-May


8-week day courses; 2 sessions

Ethics and Decision Making (3)

Strategic Management (3)

Human Resources Management (3)

MBA Internship (3)
Career possibilities
CEO of a hospital
Home healthcare manager/entrepreneur
Hospital administrator
Long-term care/Assisted living administrator
Nursing home administrator
Medical facility director
Medical group administrator
Medical practice administrator
Medical supplies director/entrepreneur
Pharmaceutical medical science liaison
Where AU students intern and graduates work
Advocate Medical System
Legacy/Avantara Healthcare
NorthShore – Edward-Elmhurst Health
Northwestern Medicine
Rush Copley Medical Center
Rush University