President Susana Rivera-Mills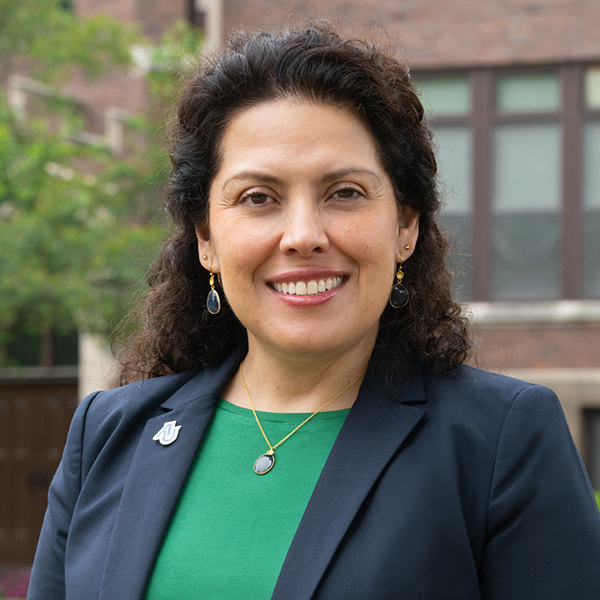 Dr. Susana Rivera-Mills is the 14th president of Aurora University. She is the first Latina to lead AU as president since the institution's founding in 1893.
Before taking office at AU in June 2023, Rivera-Mills had been provost and executive vice president for academic affairs at Ball State University since 2018, where she oversaw all aspects of the academic mission, including supporting leadership for all academic units.
At Ball State, she played a crucial role in the development and implementation of the strategic plan and in academic innovation. Her responsibilities also included advancing diversity, equity and inclusion, launching and supporting the Muncie Community Schools partnership, and developing and implementing Ball State's Lifetime Learning initiative.
As a first-generation college student, Rivera-Mills understands the transformative power of education. Her goal is to create a learning environment where all students can access a high-quality education and succeed in order to reach their full potential. She remains committed to connecting universities to their communities for the benefit of both the individual student and the community as a whole.
Previously, she served in a variety of academic roles at Oregon State University from 2007 to 2018, including vice provost of academic programs and learning innovation, dean of undergraduate studies, executive associate dean of the liberal arts college, and department chair of modern languages. Before that, she was a faculty member at Northern Arizona University for 13 years.
Rivera-Mills earned a Bachelor of Arts in Spanish and a Master of Arts in Spanish Linguistics from the University of Iowa. Her doctorate in Romance Languages is from the University of New Mexico.
During her academic career, Rivera-Mills' research has focused on Latino communities, Spanish language and culture, and issues in sociolinguistics, as well as online teaching and learning.
Rivera-Mills is a sought-after guest speaker and presenter on innovation and leadership in higher education, digital and adaptive learning, and the role of culture and voice in student success and professional development.
She has participated in the Academy for Innovative Higher Education Leadership (Arizona State University in Tempe, Arizona, and Georgetown University in Washington, D.C.); the Institute for Management and Leadership in Education, Harvard Graduate School of Education and Harvard Institutes for Higher Education; Higher Education Resource Services Summer Leadership Institute (University of Denver in Denver, Colorado); and the ACE National Women's Leadership Forum.