Cake Boss: How earning an AU MBA led to sweet success
January 17, 2023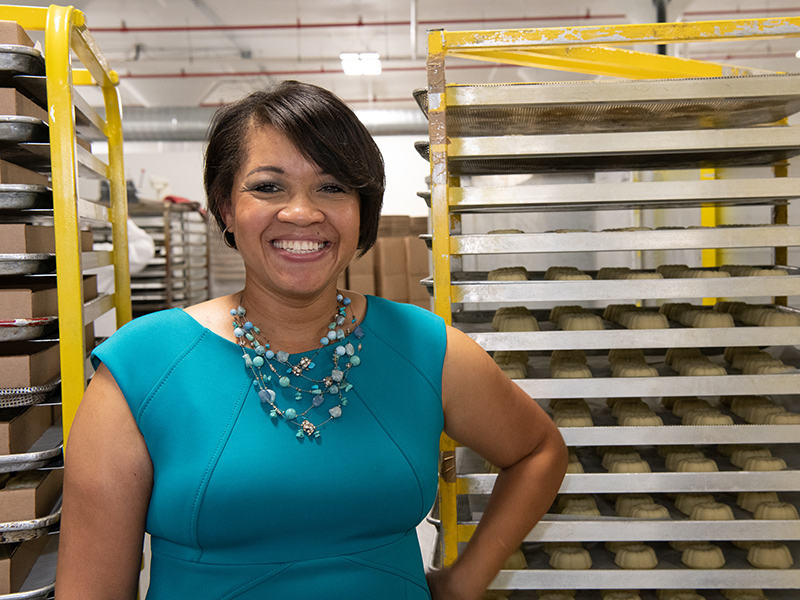 Tamara Turner '12, '14 MBA has taken her love of cake to new heights—35,000 feet into the stratosphere, to be precise.
The founder and CEO of Chicago-based Silver Spoon Desserts began selling her mini gourmet Bundt cakes to American Airlines in 2022. The Fort Worth, Texas-based airline is serving the cakes to its first-class passengers on domestic flights.
It was a big break for the five-year-old business, and has led to other national firms lining up, waiting to place orders.
"I have a big dream," said Turner. "I want to expand. I plan to be in national chains. I've always believed you work hard and you can do anything."
An Aurora native, Turner was a single mom, working two jobs in the catering and restaurant industry, when she came to Aurora University—first earning a bachelor's degree in psychology and then going through the MBA program. She had her sights on landing a corporate position, but the entrepreneurial spirit was calling, and what she really wanted was to be her own boss.
'Do the cakes first'
Turner was helping to run an Aurora barbecue restaurant, and nearing age 50, when she puzzled over her life's direction. Then came the leavening moment.
"On July 25, 2017, I heard the voice of God tell me at 4:30 in the morning, 'Do the cakes first,'" she said. "That's all I heard. It was a little bit scary, like, who's in my living room? But then I knew I had it in me all along. I knew what to do with the rest of my life."
The next month, Turner founded Silver Spoon Desserts. She started baking out of her home kitchen, combining a cake recipe handed down from her great-great-aunt with her knack for creating upscale packaging. She initially made baked desserts for weddings, birthdays, and small conferences, but after winning several business competitions, she fine-tuned her business plan to focus on the commercial market.
"She had a drive and a goal to make a difference," said Michael Hensley, who was Turner's professor for leadership and strategic planning at AU when she went through the MBA program.
She drew on the leadership, accounting, and management skills she developed at AU to adapt to the market.
"She had an incredible ability to overcome hurdles," said Hensley, senior vice president of sales at NetScout Systems. "She has got an 'it' factor that is backed up by being accountable to herself. She holds herself to such a higher level. That's like a gift from God as a professor or coach when you get to work with somebody like that."
Hensley remains Turner's mentor today, and she regularly calls him when she needs advice or has good news to share—like when she landed the American Airlines deal.
American Airlines, one of the world's largest airlines, first took an interest in Turner shortly after she started Silver Spoon Desserts, advising her to cut the cake sizes by half to fit into the airplane galley.
After a stint working out of a Dunkin' Donuts kitchen, she relocated to a 16,000-square-foot facility in Chicago's Archer Heights neighborhood that once was occupied by Smith Bros. Cough Drops. Today, Turner has 17 employees, including two of her four children.
Now that she is established, Turner is forming a foundation, called Freedom, to support her employees.
"Yes, my cakes are sweet little desserts, but they're more than that," said Turner. "I hire people in the neighborhood, people who need work. I hire single mothers because I know the strains, the struggles, and the pains that come with that. Creating economic sustainability—that's freedom to me."
This story first appeared in the Fall/Winter 2022 issue of AU Magazine.