Students gain athletic training experience in Ireland with Northwestern football team
December 21, 2022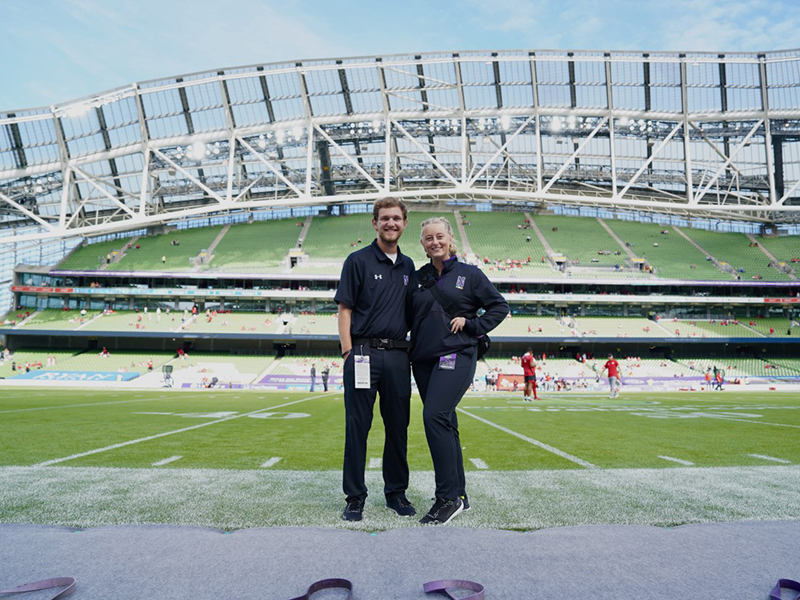 Two students in Aurora University's Master of Science in Athletic Training program received an opportunity of a lifetime through their internships at Northwestern University. Owen Clayton '23 and Kaitlin Novak '23 traveled with the Northwestern football team to Dublin, Ireland, for the Aer Lingus College Football Classic where the team faced (and upset) Nebraska University.
The game, which took place during the first week of the 2022 college football season, was the first time Northwestern played outside of the United States.
Clayton and Novak began their summer internship in May and extended the experience through the fall clinical rotation, which ended in October. The trip to Ireland came as a surprise.
"Just two weeks before the trip, our preceptor surprised us with the news that we will be joining the team in Ireland," said Novak. "It was an experience of a lifetime, and I am so grateful to have had the opportunity to attend."
While in Ireland, Novak and Clayton were responsible for working with offensive and defensive players respectively to ensure they received proper hydration and were not injured coming off of the field. They also had to flag any potential injuries or issues that arose to their preceptors, or internship instructors, and each had a role in the event of an emergency, such as bringing emergency equipment onto the field.
"My courses at AU have given me the knowledge to help treat athletes and provide the best care that I possibly can," said Clayton. "Many of the lessons that I have had in the classroom have been very transferable to this internship, which aligns with my career goal of becoming a Division I collegiate athletic trainer."
Similar to Clayton, Novak also aspires to become a Division I athletic trainer and credits her coursework for helping her think quickly on her feet to determine how to best treat her patients moving forward.
Want to learn more about AU's MS in Athletic Training program?
Fill out this form to learn about Aurora University.
Loading...