Midwestern University partnership provides AU students path to advanced healthcare degrees
December 01, 2022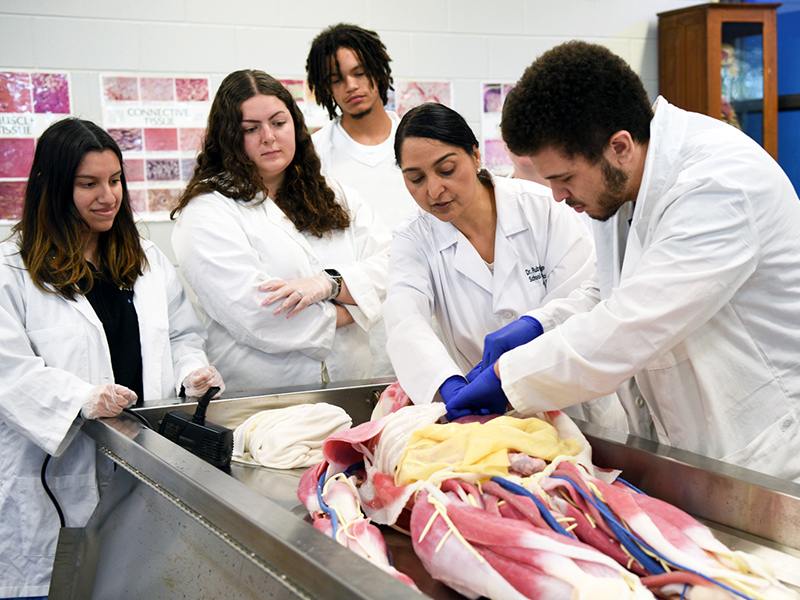 In a broad collaboration, Aurora University and Midwestern University have partnered to provide AU students a path to an advanced degree for any of Midwestern's 11 healthcare professional programs in Illinois and Arizona. The agreement marks the first time both universities have affiliated across such a wide swath of programs.
The two universities reached an articulation agreement that offers qualified AU undergraduate students a guaranteed interview at Midwestern University to enter graduate programs for:
clinical psychology
dental medicine
occupational therapy
optometry
osteopathic medicine
pharmacy
physical therapy
physician assistant studies
podiatry
speech-language pathology
veterinary medicine
Students have the option of enrolling at Midwestern University's campuses in Downers Grove, Illinois, or in Glendale, Arizona, depending on the program.
"We are excited to collaborate with Midwestern University in this unique partnership that will allow our graduates to make successful transitions into health professional and medical schools," said Aurora University President Rebecca L. Sherrick, PhD. "This partnership makes further meaning of AU's historic traditions of educating students in the helping and healing professions and contributing to improving society as a whole."
"Midwestern University is excited to add Aurora University to our growing list of academic partnerships that provide students with a clear pathway to a variety of rewarding and in-demand healthcare careers," said Kathleen H. Goeppinger, PhD, president and chief executive officer of Midwestern University. "This unique articulation agreement reflects our commitment to our community and upholds our mission to educate the next generation of healthcare professionals."
The agreement takes effect with the AU class enrolling in fall 2023. To qualify, students must meet both general and program-specific requirements, including minimum GPA and Medical College Admissions Test (MCAT) scores. The requirements vary according to the medical program for which students apply.
"AU and Midwestern are both committed to creating leaders in the medical fields and preparing students to bring positive changes to the diverse and expanding world of healthcare," said Sarah Radtke, dean of AU's College of Health and Sciences. "Together we are making healthcare higher education more accessible for all students and sustainable for the long-term."
"Midwestern University has a longstanding tradition of graduating healthcare professionals who are day one ready to be successful in their chosen fields. For example, our innovative three-year Doctor of Pharmacy program provides students with the education and clinical experiences they need for rewarding careers providing care and services in hospitals and health systems, retail pharmacies, community clinics, the pharmaceutical industry, and other healthcare settings," said Mitchell Emerson, PhD, dean of Midwestern's College of Pharmacy.
Read more about AU's pre-professional health programs here.
Founded in 1900, Midwestern University is a private, not-for-profit graduate and postgraduate educational institution specializing in the health sciences. The university is a recognized leader in healthcare education and prepares students for rewarding careers. The Illinois campus, located on a 105-acre site in Downers Grove, is home to nearly 3,000 students and the Arizona campus, located on a 156-acre site in Glendale, is home to over 3,900 students. Learn more at midwestern.edu.
Founded in 1893, Aurora University is a four-year, private, nonprofit, accredited higher education institution located on a 39-acre campus in Aurora, the second largest city in Illinois. The university serves more than 4,100 undergraduate and approximately 2,000 graduate students across more than 50 majors and programs. The university is a federally designated Minority Serving Institution and welcomes a diverse community of learners. Learn more at aurora.edu.