AU awarded funding to bring advanced technology to nursing labs
October 14, 2022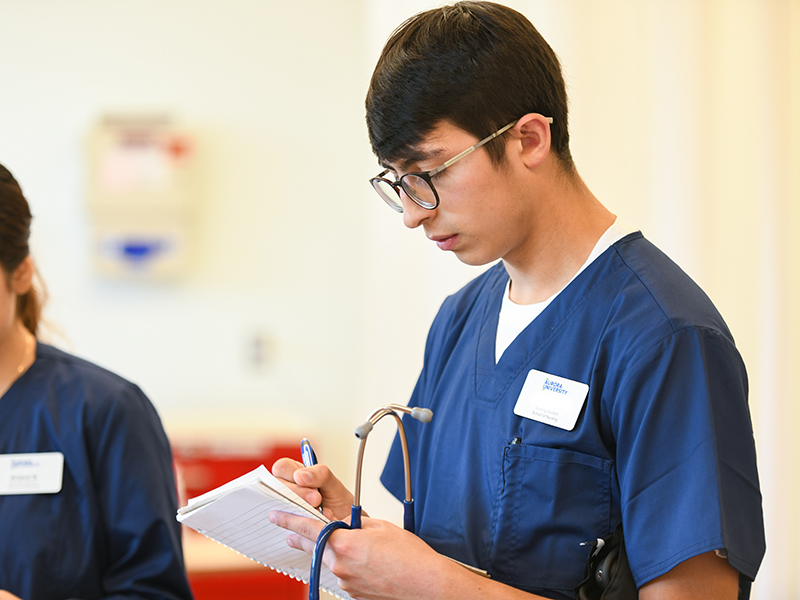 Aurora University received federal funding to expand the School of Nursing with the addition of the Center for Immersive Learning. The $775,000 grant, which was secured with the assistance of U.S. Senator Dick Durbin of Illinois, will assist with expanding and improving AU's nursing labs by adding advanced technology and equipment.
"As a Minority-serving Institution, Aurora University shares Senator Durbin's commitment to providing educational access to students from underserved communities," said Aurora University President Rebecca L. Sherrick, PhD. "Senator Durbin has been a longtime supporter of AU and our promise to students that they will receive an exceptional education that will prepare them for the future they envision. This investment in our Nursing program will allow us to prepare our students to provide the highest quality care to patients, while also addressing the critical shortage of nurses in Illinois."
Expanding opportunities for hands-on experiences
The Center for Immersive Learning, which is set to open in spring 2023, will provide hands-on training opportunities for AU's nursing students by bridging the theories and knowledge of the classroom with the real world of application. Composed of two new laboratory spaces for teaching and learning, the center will include a skills lab, where students acquire foundational skills directly connected to patient care, and a simulation lab, where students link these foundational skills to critical decision making in highly realistic patient care scenarios.
The awarded federal dollars will allow AU to purchase advanced academic technology that directly impacts learning outcomes. Purchases include:
Simulation manikins of varying ages, genders, and ethnicities
A mother manikin that provides an opportunity for scenarios during obstetrical rotations
Augmented reality and virtual reality software that creates 360-degree interactive patient simulations
A medication dispensing system that will rival the type of dispensing systems used in acute care hospitals
A number of additional IV infusion 'smart' pumps from different manufacturers for hands-on practice with various infusion systems
The new technology will more accurately represent the diversity of patients and types of equipment AU nursing students will see in the workplace. It will also provide the opportunity for more students to gain hands-on experience actively managing patients in the lab prior to working with patients in real-world settings during their clinical rotations.
The center will equip AU with the environment for its nursing students to continuously develop and refine the skills, confidence, and decision making required to meet the changing needs and demands of patient care.
"Healthcare and healthcare technology are changing at an incredible pace. For our students to be successful in the healthcare system of today and the future, they must be proficient and comfortable with technology when they graduate from nursing school," said Aurora University Interim Chief Nursing Officer Nadja James, PhD, MSN, MHA, RN, CNE. "This grant will allow us to deliver custom learning experiences that address the unique needs of our students."