Looking at nature through the playful art of Charley and Edie Harper
By Hal Conick | September 03, 2021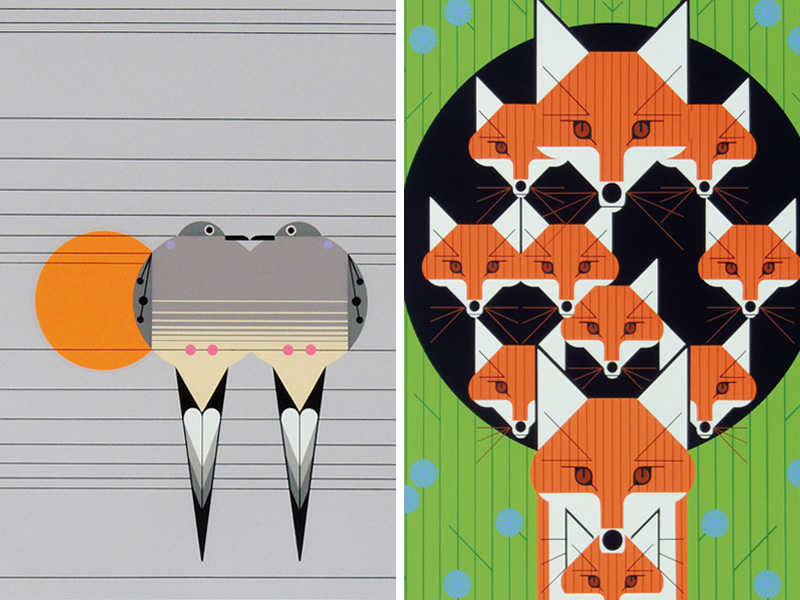 If you are wild about mid-century modern art and keen on protecting the environment, the "Curious by Nature" exhibit featuring works by artists and conservationists Charley and Edie Harper at the Schingoethe Center of Aurora University is made for you.
The exhibit opens Tuesday, September 7, at 5 p.m. with a reception and lectures about how the artists and the AU community tap into an appreciation for nature. Chris Wells, AU chair and associate professor of Parks and Recreation Leadership, will talk about AU's connection to the National Park Service and the conservation projects AU students are involved in as stewards of the environment.
Charley Harper is famous for his style of nature illustration termed "minimal realism." He created many iconic prints for environmental organizations, including the National Park Service.
"It's easy for us to take the parks for granted, but I don't want people to do that," Wells said. "We need to support the national parks, we need to give back to them. AU students do a lot of that work."
"Curious by Nature" features 76 prints and five original paintings by the Harpers. Schingoethe Center Director Natasha Ritsma augmented the exhibit with five posters that Charley Harper was commissioned to create for the National Park Service. Ritsma will also present a lecture discussing the works of the Harpers through an artistic lens.
Charley Harper, who died in 2007, began his career in the 1950s, portraying wildlife such as birds and bugs in highly stylized geometric reductions. His work reached popular levels in the early 2000s when he collaborated with designer Todd Oldham.
His wife Edie Harper, who died in 2010, is best known as a painter, photographer, and illustrator of natural subjects. Both Harpers laced their artwork with humor as a way to encourage awareness of environmental concerns.
Wells said that he loves that the Harpers' work shows the breadth and variety of nature, with its different ecosystems, sights, and species.
During his talk, Wells will discuss how AU students have helped with two big National Park Service projects.
In one project, students helped build out portions of the 1,200-mile-long Ice Age National Scenic Trail in Wisconsin. Wells calls this trail the Midwestern version of the Appalachian Trail or the Pacific Crest Trail.
"We go up there and spend a couple days at a time helping the Park Service build a short section of that trail," Wells said.
AU students have also traveled to Biscayne National Park in Florida, which is 95 percent underwater, and helped repair coral reefs just south of the park. Wells envisioned and co-led this AU alternative spring break trip—organized through AU's Wackerlin Center for Faith and Action—last year. The students worked with the Coral Restoration Foundation in Key Largo, Florida, to help repair dying or damaged coral reef.
The conservation work in Florida is especially apt for the Harpers' exhibition, Wells said, as one of the National Parks posters depicts Florida's coral reefs similar to those found in and around Biscayne National Park.
Wells said that he hopes to spread awareness, as well as his passion for the parks system. "And not just a passion for visiting the parks, but a passion for being good stewards of the parks," Wells said.
The opening reception on September 7 begins at 4 p.m. for AU students, faculty, and staff, and is open to the public from 5-6:30 p.m. The lectures take place at the adjacent Ethel W. Tapper Recital Hall from 6:30-7:30 p.m.
The traveling exhibit is organized by the Springfield Museum of Art in Springfield, Ohio. "Curious by Nature" runs from September 7 through December 10 at the Schingoethe Center on AU's main campus in Aurora. For more, visit aurora.edu/museum.