Ten tips from the Chicago Bulls on sport management
By Laura Koss-Feder | January 09, 2020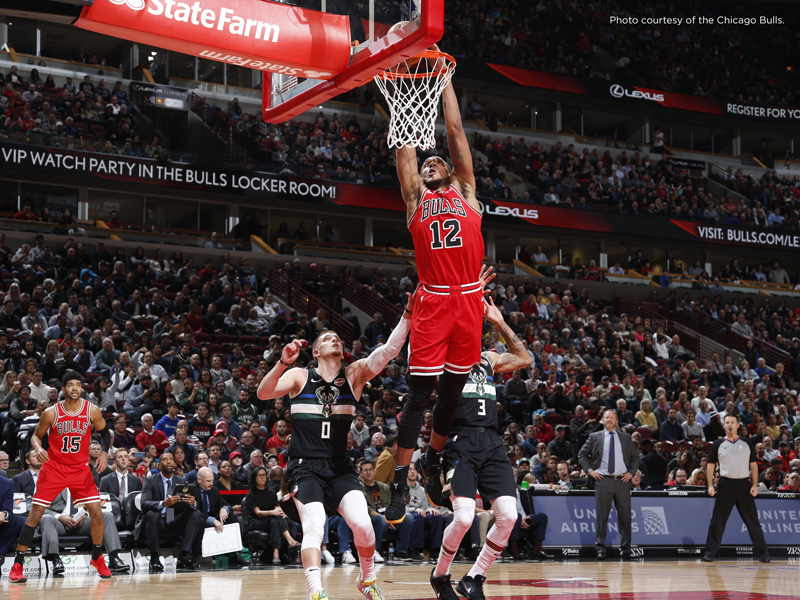 The business of sports is a dynamic, high-energy field filled with passionate fans and job opportunities for a wide range of professionals. 
If you are interested in learning a business skill and applying it to the world of sports, a sport management career could be for you.
AU students recently visited the United Center in Chicago to attend an academic panel on the business of sports, followed by a Chicago Bulls game. Before the game, the students met with Bulls front office staff for some authentic career advice. The trip was organized by AU's Human Performance Club and the Spartan Athletic Training Students Organization.
Bulls staff working in marketing, ticket sales, corporate communications, business analytics, and digital and corporate partnerships gathered to talk about their jobs. One of the most important pieces of advice, they told the students, was that a sport management career takes more than a love of sports.
People who work in the sport management industry include accountants, business analysts, sales people, marketing and public relations experts, facilities managers, and athletic trainers. They not only work for professional sports teams, but also at sport marketing firms, sport media networks, college athletic departments, and recreational sport organizations.
At Aurora University — located only 40 miles away from downtown Chicago — students have a chance to learn from employees at some of the world's most well-known sports franchises.
Here are 10 tips on what you need to know to pursue a career in sport management:
Build business skills. Be passionate and have a strong interest in at least one area outside of sports — such as marketing, accounting, or business analytics. Try to gain experience in those areas when you start your career, even if you aren't initially working in the sports industry.
Double major. Consider a double major while in college. At AU, you can double major in sport management and business administration, marketing, or a host of other concentrations. This will make you more versatile and allow you to build specific skill sets sought by sport business operations.
Volunteer. Get involved in sports business clubs, athletic departments, and teams at whatever university you attend. These volunteer opportunities can help build your network and differentiate you from other job candidates once you graduate from college.
Do an internship. Your first sport management work experience may not be a full-time job, but rather an internship at a sports organization. This is a great way to get your foot in the door. At AU, the experts at the Center for Student Success, along with professors, coaches, and advisors, are all equipped to help you find an internship.
Network. Cultivate relationships in each organization you work for. Reach out to friends and family who may have a connection in the sports industry. You never know when one of those contacts can help you land a job.
Ask questions. Talk to professionals who work in the world of sports. Demonstrate your interest by reading up on business deals and partnerships involving sports organizations, and tap that knowledge as a jumping off point in conversation.
Go the extra mile. Learn how to use online resources such as LinkedIn to connect to individuals working in a sports organization. Send that person a message and include a cover letter and targeted resume. If you do get an interview, go one step further and prepare a presentation with ideas and suggestions that would be helpful for your role in the job. This kind of preparation has a real "wow" factor and will make you stand out from the competition.
Go where the jobs are. Be open to moving, either within the U.S. or to another country. There are only so many opportunities in any one city or town.
Learn a foreign language. Sports is a global business. U.S. professional sports teams have fans around the world, and they recruit players internationally. You can stand out by speaking another language, spending time in another country, or demonstrating your desire to learn about different cultures.
Avoid this red flag. The sport management industry is highly competitive. Organizations are looking for people who are skilled and passionate about the work they do — whether it is selling sponsorships to corporations or analyzing consumer data. Nothing is more of a red flag to hiring managers than when a job candidate says, "I don't care what I do, I just want to work for a team." In fact, gaining experience in outside industries before joining a sports organization can give you an advantage over other job candidates.
Learn more about Aurora University's Sport Management program here.