Industry leaders help develop hands-on chemistry major
July 15, 2019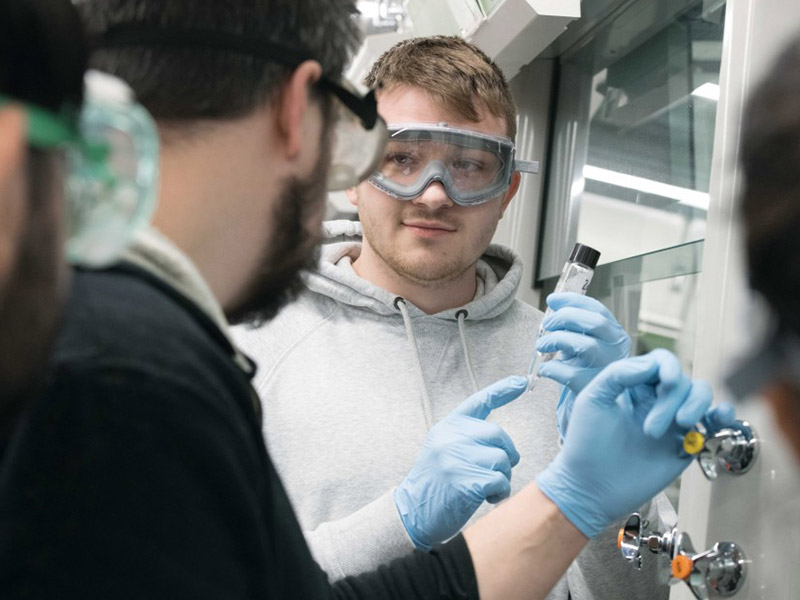 Since the John C. Dunham STEM Partnership School opened on the Aurora University campus in 2014, its third- through eighth-grade students have consistently demonstrated outstanding growth in science skills. To strengthen undergraduate science offerings at AU in a similar way, Chetna Patel, professor of chemistry and chair of Physical Sciences, and her colleagues, including assistant professors of chemistry Ami Johanson and Kyle McElhoney, initiated a chemistry major using the same model: working with external partners to develop the curriculum. The classes, which kicked off in fall 2018, are part of a hands-on program that is better preparing AU students for careers in the chemical industry.
"We developed our curriculum collaboratively with insights from industry and federal laboratories, including Cabot Microelectronics, FONA International, and Argonne National Laboratory," explained Patel. "We are working with them to bring relevant content and skills to our students in the major."
Undergraduate students have already found themselves immersed in innovative activities with these partners, helping the students bridge real-world application and what they have learned in the classroom.
For sophomore chemistry and health science double major Zach Ferris, learning chemistry this way has made a significant difference.
"As a hands-on learner, I've always benefited more from working in labs than listening to lectures," he said. "Learning how to apply the lecture material outside of the classroom, like we did at the FONA lab in Geneva for my course on instrumental methods analysis, is great in reinforcing our learning."
On the FONA International visit, students experienced and learned about analytical instruments on-site. They also participated in a lab that allowed them to use the instruments to analyze and identify unknown samples of essential oils.
"It was very cool to see everything we have been talking about in class come together and also to see the instruments operate," Ferris said. "If the rest of the chemistry courses are like this, I will be more than prepared to start a career in chemistry."
The FONA International visit was one of three experiences that were coordinated for students during the first semester of the chemistry program. Cabot Microelectronics and Argonne National Lab visited campus to present on topics in general chemistry and organic chemistry that aligned with course content. Partners are also working with faculty to introduce lab experiments that align with work done in industries.
Patel hopes to eventually develop mentoring and internship opportunities for students through these partnerships.
"These interactions not only provide a richer experience for our students and help us prepare them for life after graduation but also benefit our partners," said Patel. "AU provides a diverse student population for industries looking for diverse and local talent."