General Information
Mission
The Doris K. Colby Memorial Archives collects, preserves, makes accessible, and interprets/exhibits materials related to the establishment and operations of Aurora University and George Williams College and their predecessors; the people associated with these institutions; and institutional relationships with surrounding communities, affiliated religious denominations, and national organizations.
Creation of the Colby Archives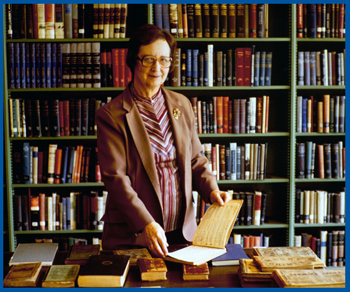 The archives for Aurora University was created by an Aurora College graduate and longstanding employee of the school who devoted a lifetime of service to the institution—Doris K. Colby. The archives was created in the 1970s when Doris Colby, a librarian at the Phillips Library, went about systematically collecting historical materials, dating back to the Mendota years, from around the campus. After she died in 1983, the university archives was named in memory of Doris Colby for her role as creator of this collection which is so important to understanding the legacy of Mendota College/Aurora College/Aurora University, and George Williams College.
Building the Colby Archives — Materials Needed
An institutional archives, by definition, is mainly concerned with preserving the records of the institution that created it—the operational records of its various leaders and offices once those records are no longer active. However, there are certain materials that the Colby Archives is always interested in acquiring from outside of the institution—materials related to student life and alumni activities and accomplishments. We are especially interested in photographs, student scrapbooks, material from student organizations, student publications, and memorabilia related to campus activities/life, organizations and sports, etc.