Teaching (MA)
Why earn your MA in Teaching at Aurora University?
Through the Master of Arts in Teaching (MAT) Plus One program, you can complete your graduate degree and be eligible to earn your secondary education teacher licensure in Illinois in one year.
The MAT Plus One program is designed for students who aspire to become educators with bachelor's degrees in the following fields: Biology, Chemistry, Earth and Space Science, Economics, English, Environmental Science, Geography, History, Mathematics, Physics, Political Science, Psychology, Sociology and Anthropology, or Spanish. Health Science majors may also be eligible for this program depending on the number of completed content courses.
Aurora University's MAT Plus One is a full-time, one-year program. Classes are held during the day on the main AU campus.
Why earn an MAT Plus One at AU?
It will increase your earning potential

. U.S. workers holding a master's degree earn 18 percent more in average annual salary than those with a bachelor's degree.*

It's a great value.

 AU graduate programs are affordable and have impressive student outcomes.

Athletes can stay on the team.

 It's a great option for student-athletes with a remaining year of athletic eligibility.

It offers a streamlined application process

. There is no application fee and no GMAT/GRE required for application to the program.

A laptop is included and there are no textbook costs

. The computer will be equipped with all the software you need for the program.
*Bureau of Labor Statistics, 2021
As a woman of color in STEM, I have the power to be present in my students' lives and to expose them to the many STEM careers that they can pursue even if they may have felt impossible in the past. I will help them work toward removing obstacles for future generations. Jennifer Aguilar '22, Science Teacher at West Aurora High School
Experiential learning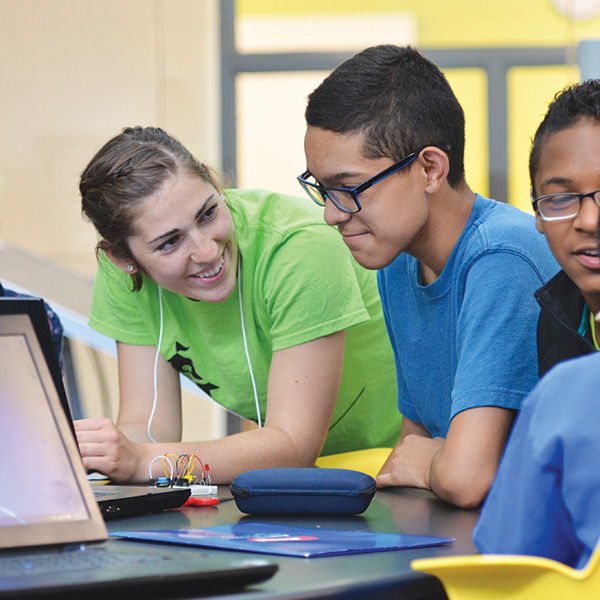 You will participate in an enriching student teaching experience during your spring semester where you will put the skills and knowledge you've gained throughout your coursework into practice in a real-life classroom.
Sample Schedule
Plus One students meet as a cohort during summer, fall, and spring semesters.
Term
Classes
Summer
May–August
Session 1; 5-week day courses


Methods of ESL/BE education (3)
Methods of Reading (3)

Session 2; 5-week day courses


Methods of Teaching Exceptional Children (3)
Methods of Educational Psychology (3)

Fall
August–December
Session 1; 8-week day courses


Methods of Content Area Literacy (3)
Methods of Teaching and Assessing Diverse Learners in the Secondary Classroom (3)

Session 2; 8-week day course


Content Area Methods for the Secondary Classroom

(3)

Spring
January–May
Session 1; 8-week day course


Secondary Student Teaching Seminar (1)

Session 2; 8-week day course


Methods of Educational Research (1)

Spring term; 16-week day course

Prepare for your future
By successfully completing the MAT Plus One program, you will be eligible to earn your secondary education teacher licensure through the Illinois State Board of Education.
Career possibilities
High school teacher
Middle school teacher
Military base teacher
Regional Office of Education employee
Standardized test industry professional
Textbook creator/salesperson
Youth corrections teacher