Nursing (MSN)
Why study in the MSN program at Aurora University?
Learn from one of the best programs in the region to advance your nursing career. This program prepares you for high-level career paths in nursing, such as care coordination and clinical leadership. You can earn the MSN as a "4+1" degree if you're an undergraduate nursing student at Aurora University, or in approximately four semesters if you already hold a bachelor's degree in nursing.
Program quick facts
Program prerequisite: Two research and leadership graduate-level courses (taken during the senior year if pursuing the "4+1" option, or taken at AU prior to acceptance into the MSN program)
Program length: Three semesters
Average class size: 20
Tuition: $9,800 per semester. There are no textbook costs. A laptop computer is provided to all students.
Program structure
Senior year/pre-requisite year: Scientific Inquiry and Research (3; offered only in the fall semester), Leadership and Professional Role Development (3; offered only in the spring semester)
Master's Program Semester 1: Pass the NLCEX Exam. Health Care Policy and Finance (3), Advanced Nursing Concepts in Pathophysiology, Pharmacology and Physical Assessment (4), 

Theoretical Foundations of Nursing Education (3).

Master's Program Semester 2: The Business of Healthcare and Human Resource Management (3), Clinical Prevention and Population Based Practice (3), Managing Continuous Quality Improvement Outcomes (3), Interprofessional Care Coordination (3)
Master's Program Semester 3: Ethical Principles and Global Social Considerations (3), Practicum: Role Concentration (5)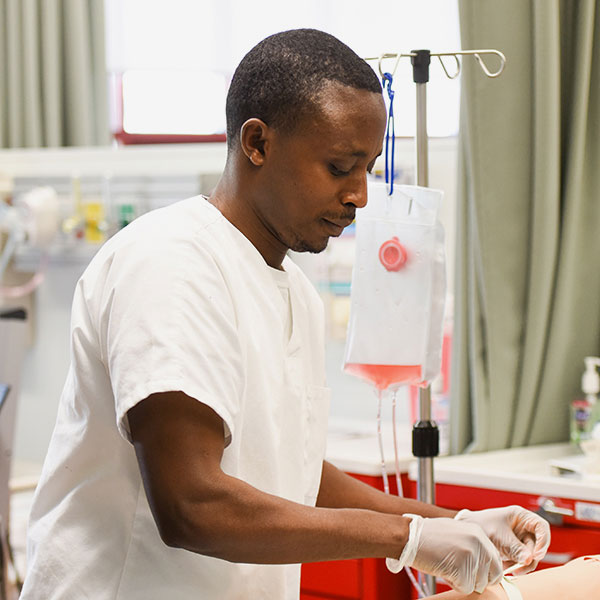 Experiential learning opportunities
Students will take a 16-week practicum that will provide invaluable experience. This program is tailored to each student's interests and aspirations.
Career opportunities
Nurse case coordinator
Nurse case manager
Nurse clinical leader
Nurse consultant
Nurse educator
Nurse professor
Nurse insurance reviewer
Nurse leader
Nurse manager
Where our graduates work
Hospitals
Universities
Clinics