Remembering Richard Hamlin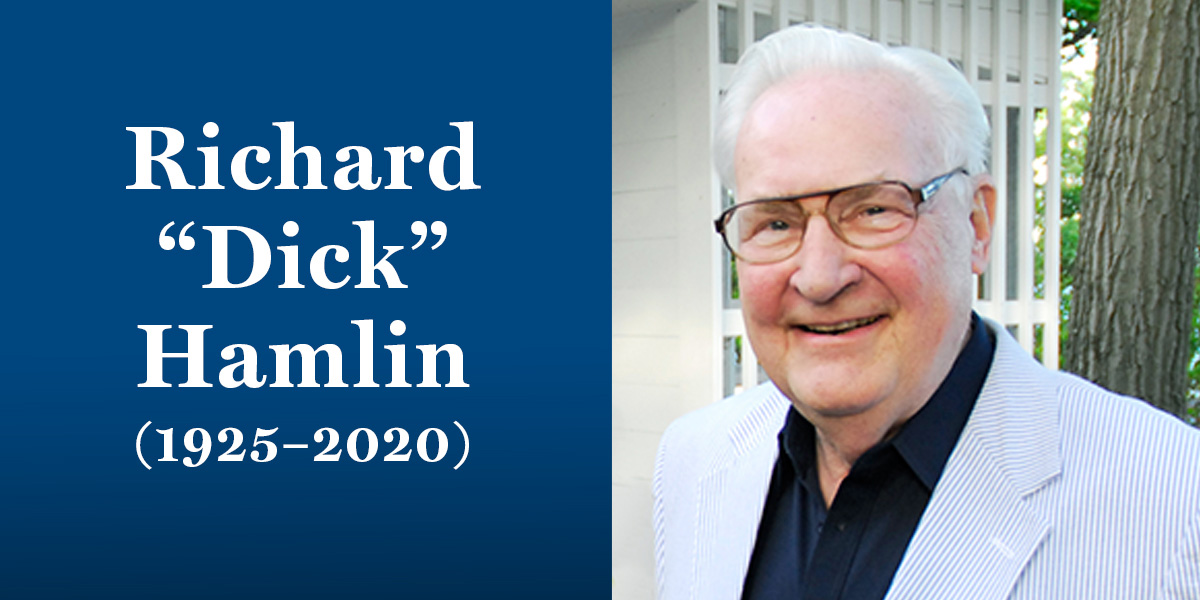 Richard "Dick" Hamlin, former president of George Williams College, passed away this spring at his home in Naples, Florida. He was 94.
Hamlin was a prominent leader in the YMCA movement when the call came from his alma mater, GWC, to assume its presidency in 1961. He set aside his own plans and piloted one of the most successful eras in the institution's history. In the years that followed, GWC developed an outstanding faculty that wove together the values of the Y movement with cutting-edge methodologies in research, practice, and pedagogy. Hamlin served as GWC president for 22 years.
"As president, Dick played a vital role in educating a new generation of leaders for careers in human service and youth development organizations," said Aurora University President Rebecca L. Sherrick. "It would be hard to overestimate the impact of his work. At one point, literally all of the leaders of Chicago's major human service nonprofits were graduates of George Williams.
"At the helm of GWC, he also pioneered in the recruitment and education of international students," she said. "Many of these men and women left to become leading human service advocates in their home countries. Thanks to his leadership, a small Illinois college had global impact."
In 2009, AU saluted the Hamlin legacy by opening its new Welcome Center on the GWC campus and naming the building in honor of Dick and Joan Hamlin. The building was dedicated on a gala weekend when the Hamlins celebrated their 60th wedding anniversary with family and friends.
Hamlin was born in Royal, Iowa, in 1925, where his father was a Presbyterian minister. In 1943, he graduated from high school in Aurora, Missouri, then served in the Navy for three years as a psychiatric technician. He received a Bachelor of Science in Group Work Education from GWC in 1949, a Master of Arts in Psychology from the University of Omaha in 1951, and a PhD in Educational Psychology from the University of Nebraska in 1956.
He spent more than a decade working at the YMCA, including as executive director of the South Omaha YMCA and associate director of research for the National Council of YMCAs, until he began his presidency of GWC in 1961.
After retiring from the presidency of the college, he was named chairman and CEO of the Bank of Yorktown and was a member of senior management of Cole-Taylor Banks. He served in various executive capacities with the holding company. Upon retirement he was named an honorary director of Cole-Taylor Banks.
In more recent years, Dick and Joan Hamlin divided their time between a winter home at Bentley Village in Naples, Florida, and a summer home in Williams Bay, Wisconsin. Their summer residence, known as the "Hamlin Hideaway" sits at the edge of the GWC campus. Soon after the couple moved in, their home's screened porch became a popular stop for current and past members of the GWC community.
Hamlin is survived by Carol Joan (née Dahl), his wife of 70 years; his son, Robert E. Hamlin, and Robert's wife, Cynthia, of Ft. Myers, Florida; daughter, Betsy (GWC '86), of Los Angeles; and grandsons, Richard Will Hamlin and his wife, Mei, of Guam and Singapore, and Trevor Hamlin of Ft. Myers, Florida.
Memorial gifts in his memory may be made to the Richard E. and C. Joan Hamlin Scholarship Fund at George Williams College, P.O. Box 210, 350 Constance Blvd., Williams Bay, Wisconsin, 53191.