Legacy: Five Generations of Watkinses Trace Their AU Roots Back to Mendota College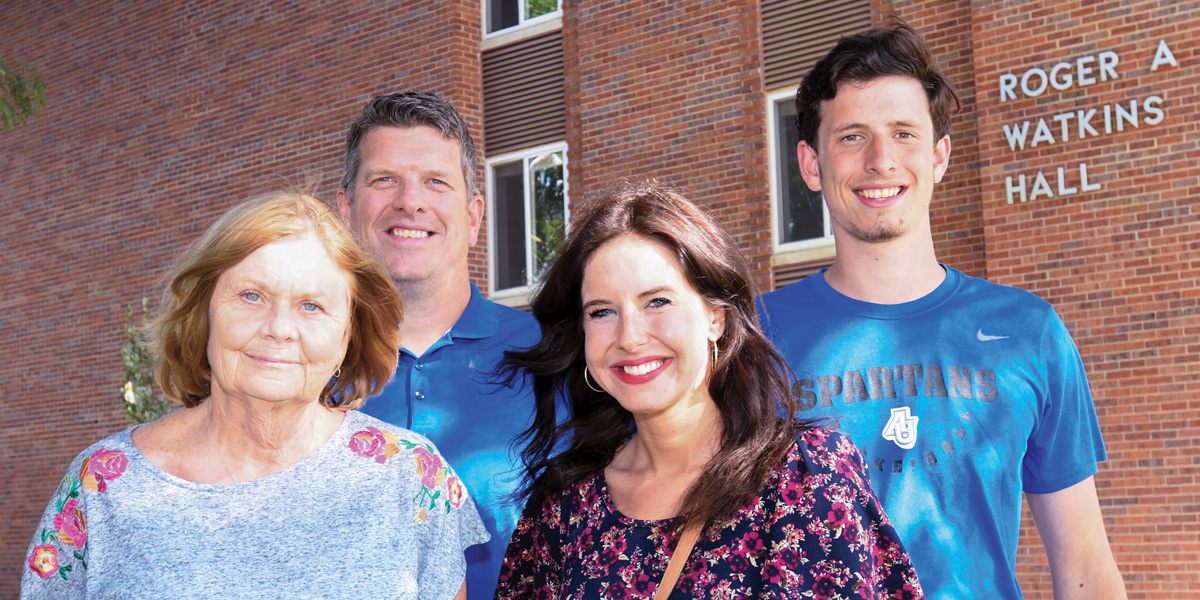 There are very few Spartans who can trace their roots back to the beginning of Aurora University — then called Mendota College — at the turn of the 19th century.
Haley Versluys Draper MSW '20 is one of them.
Draper earned her Master of Social Work in May, marking the fifth generation in a long line of family members who have graduated from AU. Rooted in faith, the Watkins family tree is brimming with teachers, ministers, social workers, and business leaders keen on supporting their communities.

The family legacy begins with Draper's great-great- grandfather — James Laurie "Deacon" White, a legend of early baseball and a barehanded catcher who is listed in the National Baseball Hall of Fame. White played for the Chicago White Stockings (the precursor to the Chicago Cubs), and helped the team win its first pennant, in 1876. He was nicknamed "Deacon" for his strong religious convictions.
In 1909, almost two decades after retiring from Major League Baseball, White and his wife, Marium, moved to Mendota, Illinois, to be near the couple's only daughter, Grace, who was enrolled at Mendota College. While they didn't attend the college as students, the couple took jobs on campus — Marium serving as a houseparent and James working as a member of the grounds crew.
When Mendota College moved to Aurora in 1912, James and Marium White accompanied AU's first president, Orrin Roe Jenks, in the lead car in the auto parade from the Aurora train station to the new campus, where AU stands today.
More than a century later, some two dozen descendants and relatives of Deacon and Marium White have attended AU.
"One of the university's biggest assets is its professors, who are really advocates for their students, a theme that has been mentioned by so many family members through the years," said Draper. "The faculty genuinely care that you get an education."
Among the most influential graduates was Roger Watkins, the namesake of the freshman dorm Watkins Hall. Both Watkins and the Whites' daughter, Grace, graduated from Mendota in 1911, just one year before the college moved to Aurora. They married in August 1912.
Eight years later, Roger and Grace Watkins moved to Aurora, where they operated the Strathmore Company, a printing business, and supported the growing college. Grace served as the first secretary of the alumni association, which was formed in 1913. Roger served on the board of directors from 1927 until 1971.
All four of the Watkins children attended AU, then called Aurora College: James '35, Marium '37, Elizabeth '43, and Daniel '50. And each of the four children married Aurora College classmates. One of those classmates was Mark H. Trumbo '37, who married Marium Watkins in 1941. Trumbo worked at AU for 37 years as professor, dean of the college, acting president, and vice president. The Marcus and Mark H. Trumbo Award for Excellence in Teaching is named after him and his father, Marcus.
Among the other members of the family tree who graduated or attended AU include: Alice Young Watkins '38, Marie Peters Clark Watkins '41, Bob Jackson '43, Jan Clark Gilbert '64, Denny Clark '69, Beth Trumbo Dell '66, Caddy Jackson '68, Jerry Watkins '69, John Jackson, Liz Jackson Zane '73, Joan Watkins '70, James Jackson '77, and Barbara Watkins Kile '77.
Haley's father, Fred Versluys, received his Master of Arts and Education Leadership in 1998, and her brother Ben Versluys began his undergraduate career at AU in 2018 as a member of the men's basketball team.
It is this legacy of service to the community that Draper continues; she began working earlier this summer with Omni Youth Services in Buffalo Grove as a prevention specialist.