Last Look: 'Boat 92'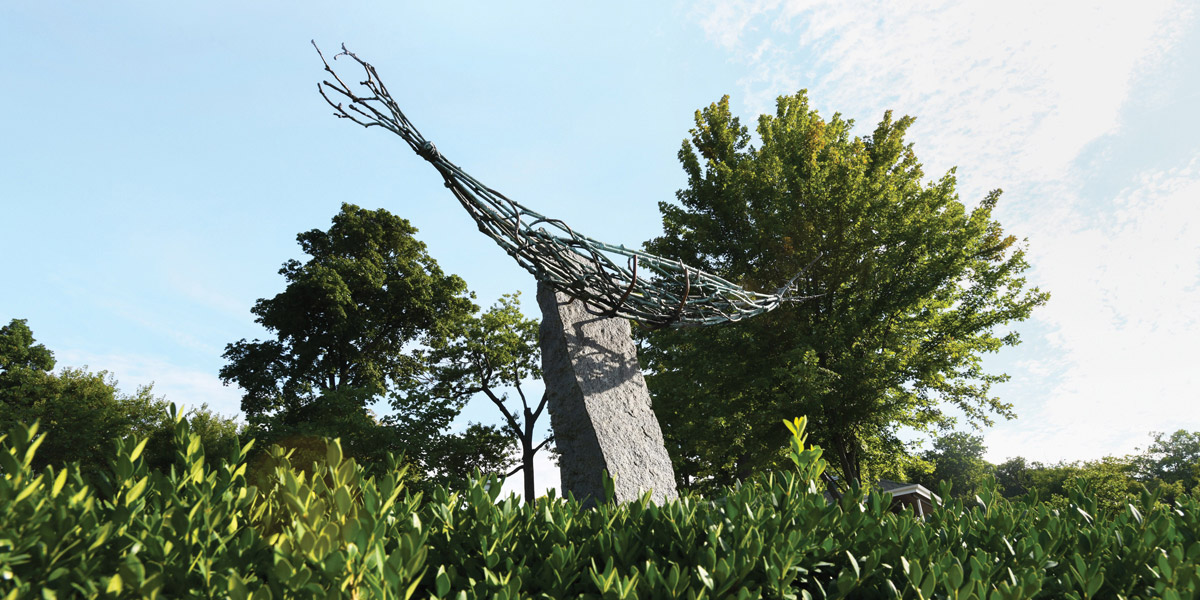 For more than a decade, "Boat 92" has been a familiar sight at George Williams College, greeting all who pass its prominent home at the lakefront. The sculpture by California artist Max DeMoss depicts a small watercraft made of bronze twigs on a granite base.
DeMoss works primarily in bronze and stone, and boats are among his most frequently explored subjects. Fragmentation, and our human habit of resolving it and seeing wholeness, is a recurring theme in DeMoss' work.
The expansive lakefront at the GWC campus in Williams Bay, Wisconsin, has been a special, meaningful place for more than a century. It was at the lakefront that campus founders lit a dedicatory campfire in August 1884, celebrating the formation of the Western Secretarial Institute. Soon after, platform tents appeared along the shore, providing accommodations just a stone's throw from Geneva Lake. It was at the lakefront that decades of GWC students learned to sail at September Camp. And it was (and still is) the lakefront that has welcomed campus visitors and guests arriving by boat.
In many ways, the GWC lakefront is the front door to campus. Even from across the lake, the familiar white arch, with the Weidensall Administration Building porch behind it, is instantly recognizable. So too is the Ferro Pavilion, home to Music by the Lake.
When plans for the pavilion were drawn up in 2007, two of its earliest champions were longtime Lake Geneva residents Larry and Sue Larkin. It came as no surprise, as the Larkins had been friends of Music by the Lake since the very beginning. They were instrumental in raising funds for Music by the Lake's new home.
In recognition of the Larkin's support, Aurora University President Rebecca L. Sherrick created the Larkin Sculpture Walk at the lakefront to coincide with the opening of the new pavilion in 2008, and personally selected "Boat 92" to serve as the first sculpture on the walk. It is an entirely fitting choice considering the Larkin's lifelong love of historic boats on Geneva Lake.