Heroes Among Us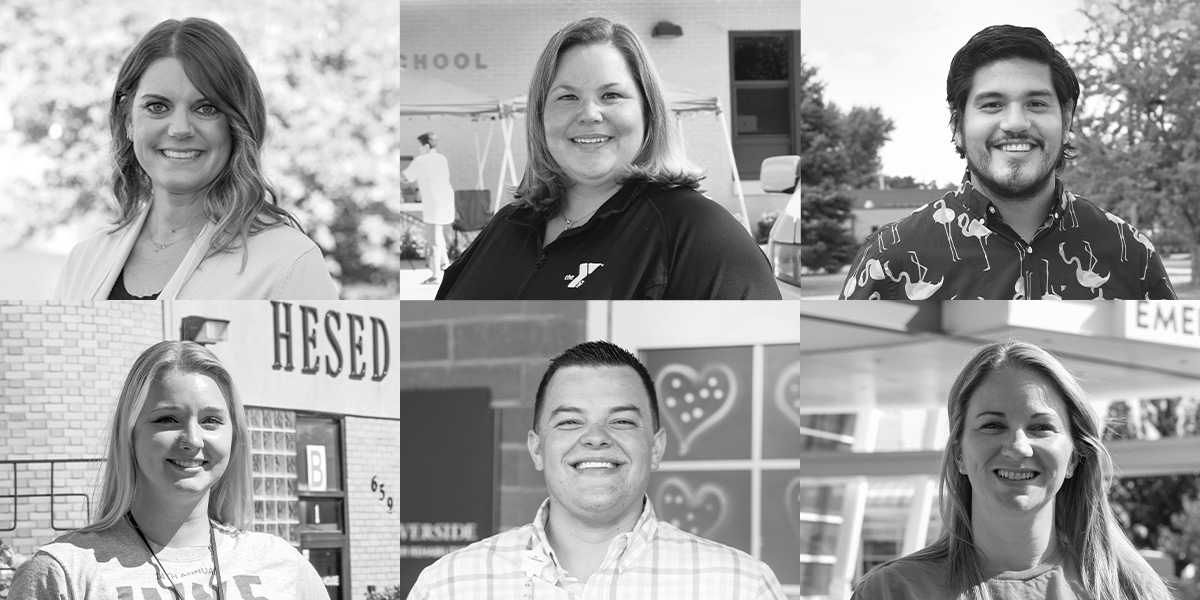 Six AU alumni tell their stories from the front lines of the COVID-19 pandemic.
As COVID-19 took hold in March, little was known about the virus except that it was extremely contagious and could be fatal. That's when the Aurora University community stepped up to serve.
We gathered six stories of AU alumni who leaned into the early days of the crisis and found ways to help some of the most vulnerable populations — children, the mentally weary, the elderly, the sick, and the homeless. These stories represent only a small sample of the many ways members of the AU community have worked to improve lives during the pandemic. There are heroes all around us. Here are just a few.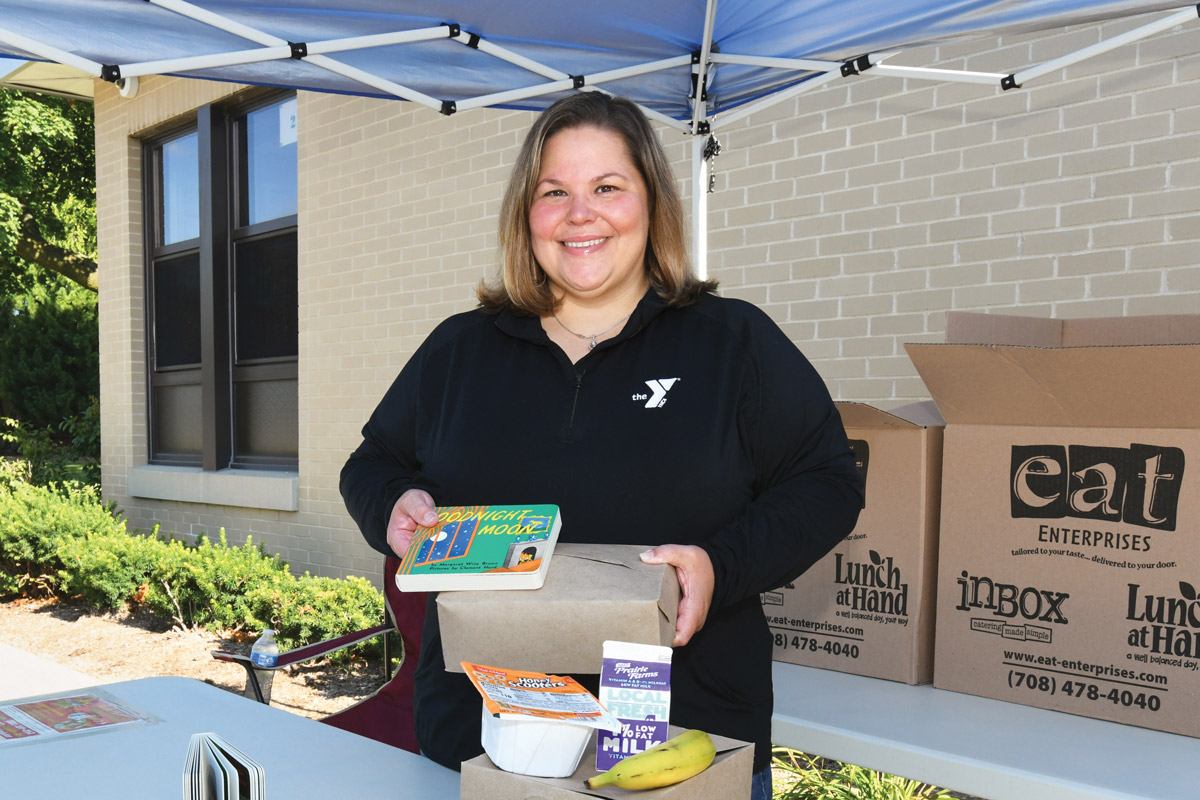 Helping Children Through the COVID-19 Crisis, One Meal at a Time
Sarah O'Donnell '05 could not have imagined that her bachelor's degree in recreation administration would lead to her becoming a hero in her community. But it did.
When the coronavirus pandemic forced Illinois schools to shut down in mid-March by order of Gov. J. B. Pritzker, O'Donnell faced the Herculean task of keeping thousands of students from going hungry.
As CEO of the Tri-Town YMCA in Lombard, O'Donnell quickly stepped up to help feed K–12 children in and around the communities of Lombard, Villa Park, and Oakbrook Terrace who rely on free and subsidized school lunches.
Within three days of the state order to close schools, O'Donnell had amassed an army of more than 300 volunteers ready to ride on a fleet of school buses and man curbside delivery of 32,000 meals to 3,200 children each week.
She established four distribution sites for the delivery of the grab-and-go breakfasts and lunches, and she convinced a moving-truck rental agency to rent her a refrigerated truck, at a discount, to store the meals. (She and a community partner have since landed a grant to cover the cost of the refrigerated rental truck.)
Never one to sit still, O'Donnell, 40, assisted the volunteers on the buses, helped deliver the meals herself, and even dug out her sewing machine to make masks for staff, volunteers, and children in the community.
"One of the best things I ever learned at AU was that in the world of recreation you need to pivot, and no two days are ever similar," said O'Donnell. "I also learned to network, network, network, since you never know who can suddenly become a part of your working world."
Since that March day, the Tri-Town YMCA has expanded its effort to respond to other pressing needs. O'Donnell led the charge to create emergency childcare sites for children of essential workers and to deliver school supply kits for students who did not have the means to purchase school supplies for home learning.
The Tri-Town YMCA also partnered with the Northern Illinois Food Bank to establish a curbside family meal pickup program in neighborhoods where the need is great. O'Donnell is also keeping an eye on the elderly members of her community with a wellness service where volunteers make phone calls to check on seniors facing social isolation.
"I was always taught at AU to think outside of the box — to be a problem solver and to find people's strengths when you are leading others," said O'Donnell. "I took that to heart and use that advice today."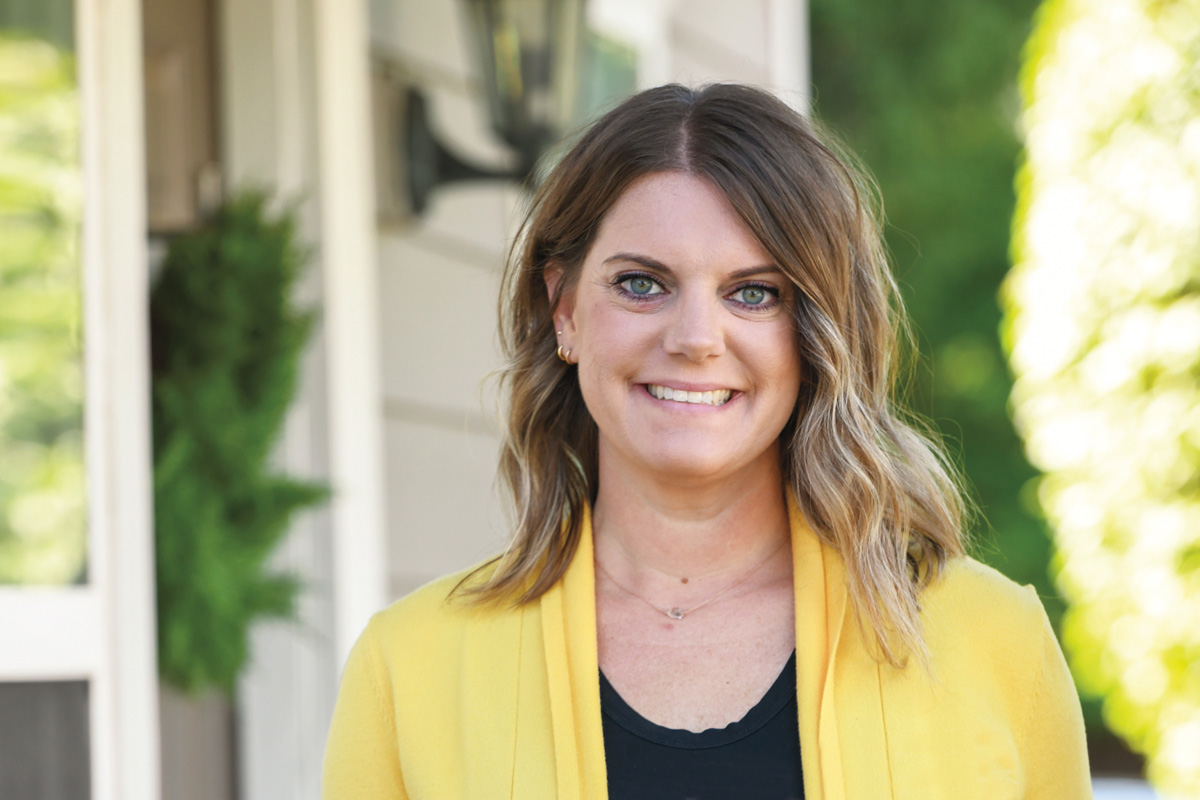 'I Won't Turn Them Away': Offering Free Telehealth Sessions to Frontline Workers
Katie Johns MSW '09 recalls the day that the COVID-19 crisis first felt real to her. During a conversation with her sister, an emergency room nurse, Johns was struck by the imprints on her sister's face left by the personal protective equipment she wore throughout her 17-hour workdays.
The imprints were physical. But Johns wondered about the emotional imprints the grueling shifts were leaving behind. Johns knew then that she needed to use her skills honed in AU's Master of Social Work program to help health care workers and first responders manage their mental health.
"I felt like they needed a space to be able to talk and work through things," Johns said. "As a licensed clinical social worker, I want to give my time and service to the industry that is showing up and working hard to keep us safe and well."
Soon after the COVID-19 outbreak was deemed a pandemic, Johns, 37, became a first responder to the first responders, offering free telehealth counseling sessions to frontline workers. She created a flyer announcing free sessions and posted it on social media (the posts were shared more than 200 times), handed the flyer to her sister to distribute at the hospital, and shared it with a 911 dispatcher. Quickly, word of the free sessions spread.
Johns is a behavioral specialist focusing on toddlers to 8th graders. She squeezes in telehealth appointments with emergency medical technicians, nurses, doctors, and firefighters during her off hours — in the mornings before she leaves for work, when she gets home at night, during lunch breaks, and on the weekends.
During these telehealth counseling sessions, she hears the fear, the confusion, and the difficulty that so many frontline health care workers across the country have processing long, strange days. Some are confused by the constant changes at work. Some are worried about the lack of personal protective equipment. Some are losing their jobs at hospitals due to the delay in elective surgeries as care for COVID-19 patients takes first priority. And some are depressed that they have to avoid close contact with their children and families for fear of spreading the virus to them.
Everyone needs to feel like they're connected to other people, like they're supported, especially amid tough times. The importance of building a community and working as a community is something I learned at AU. Katie Johns MSW '09
In her work with frontline clients, Johns said that she has drawn on the ethical principles of service, integrity, and social justice that she learned at AU. She teaches clients the importance of taking care of themselves, but also of keeping a strong community.
Her time at AU is a big reason why Johns knows the vast power of connection.
"Everyone needs to feel like they're connected to other people, like they're supported, especially amid tough times," she said. "The importance of building a community and working as a community is something I learned at AU."
In caring for herself, Johns has leaned on her own community of fellow social workers, many of whom she met more than a decade ago as a student at AU, where she now teaches as an adjunct professor. Johns says that her mentor Brenda Barnwell, dean of AU's School of Social Work, has been essential to her career, helping her stay connected to others and grow as a social worker.
Johns continues to offer free sessions, sharing her flyer and social media posts in an attempt to help more people. Like everyone else, she doesn't know when the pandemic will end, but she knows that there will be deleterious mental health effects for years to come. Frontline health care workers will need support long after COVID-19 is no longer a threat.
"I won't turn them away," she said.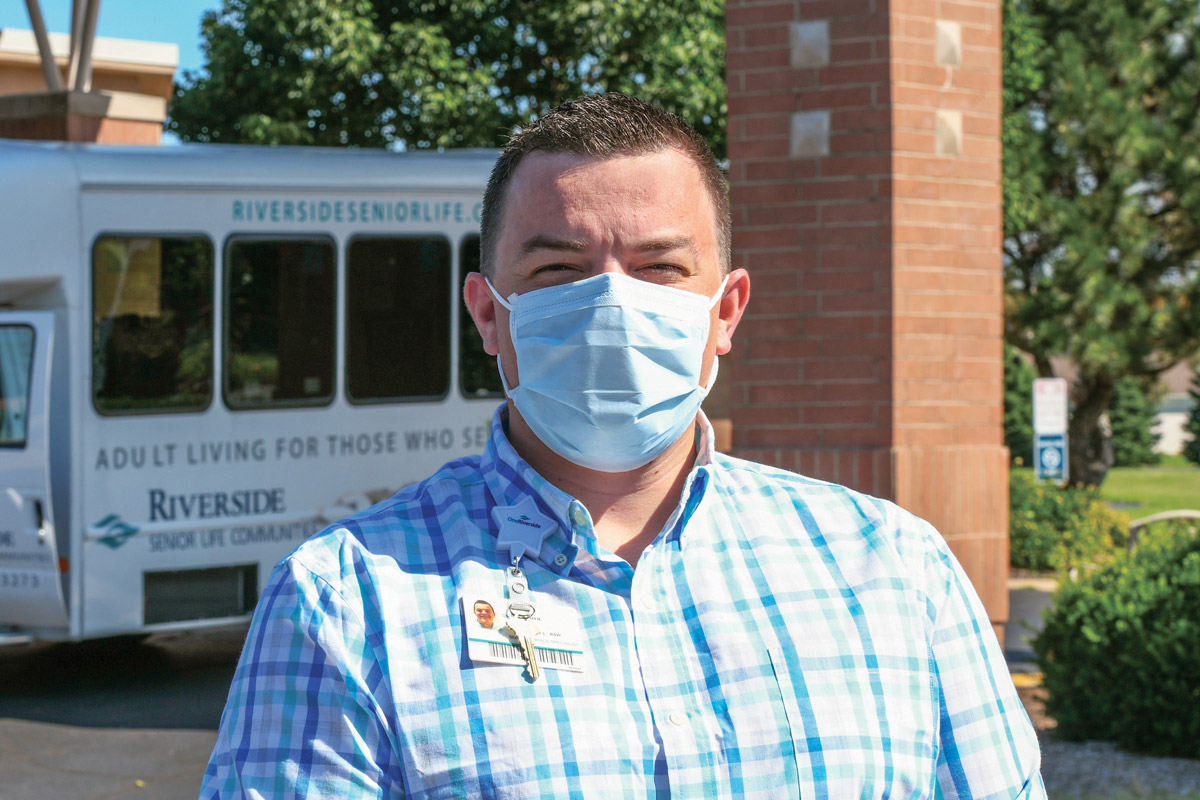 Advocating for Aging Patients, AU Social Worker Forges Community
Whenever patients are admitted to Riverside Miller Rehabilitation, Caleb Lane '17 meets them at eye level and asks them about themselves — their hobbies, their interests, their lives. Lane, a medical social worker, wants his patients to feel respected as equals. Most of all, he wants them to have a positive stay and go home healthy.
But in March, as COVID-19 became a global health crisis and public officials began to order quarantines and lockdowns, Lane said that the pandemic "changed the game entirely." His elderly patients were at great risk of contracting the virus.
Quickly, the rehabilitation center limited visitation, and then banned visits entirely. Residents began taking their meals and receiving treatment in their rooms. No one was allowed in the dining hall or the gym. Then, the staff cordoned off two of its wings for COVID-19 patients and started moving them in. They used negative pressure — which allows air to move inward but not escape back into general circulation — to keep the airborne disease from reaching healthy residents.
Over the next two months, as isolation rose and the number of positive cases at the facility increased, Lane, 28, noticed the morale of his patients dropping. Although COVID-19 can be deadly, Lane knew how disastrous loneliness could also be for the elderly.
Lane chose to go into elder care as a medical social worker because he felt an affinity for the aging population — as if he had many, many grandparents.
He wants to keep residents feeling as connected to other people as possible, even during a virus that seems bent on keeping people apart. Social isolation and loneliness are particularly harmful for older adults and can negatively affect nearly every biological system, experts say.
"The residents thrive off of social interaction and get motivation from knowing exactly what they're working toward to get home," Lane said. "To pull that from them, that pulls the motivation away. The boost to morale was gone."
It was a big challenge. But, rather than getting overwhelmed, Lane drew on his training from the Bachelor of Social Work program at AU. The program taught him the importance of connection and a person-centered approach to care, especially with vulnerable populations, Lane said.
Even at times when the uncertainty and the seriousness of the pandemic can seem overwhelming, Lane intentionally starts his day by remembering to connect with each person under his care.
"The values of a person-centered approach are to not judge others, to try to expand their experiences, to try to be in their shoes, in their point of view, while honoring them in a genuine, heartfelt way," Lane said.
I want to be their advocate who brings a sense of community, a sense of comfort. To be able to do that every day, it's the greatest thing. Caleb Lane '17
Lane and his coworkers have helped patients feel connected with family visits through the facility's windows. A husband pulled up a chair to the window to visit his wife. A family held up a new baby to show her to her great-grandmother. The most heart-wrenching experience for Lane was when a woman kissed her palm and pressed it to the window to say goodbye to her husband when he passed away — an experience that brought Lane to tears.
Despite the sometimes-joyful, sometimes-difficult scenes, Lane said that allowing window visits at that time was the best thing they could have done for patients. Morale rose as patients were able to see their loved ones.
"It was so eye-opening to me," Lane said. "It tells you how precious time is."
Lane said his work with the aging population is teaching him the importance of connection and the value of each individual — lessons he first learned at AU and hopes to pass on to others.
"I want to be their advocate who brings a sense of community, a sense of comfort," Lane said. "To be able to do that every day, it's the greatest thing."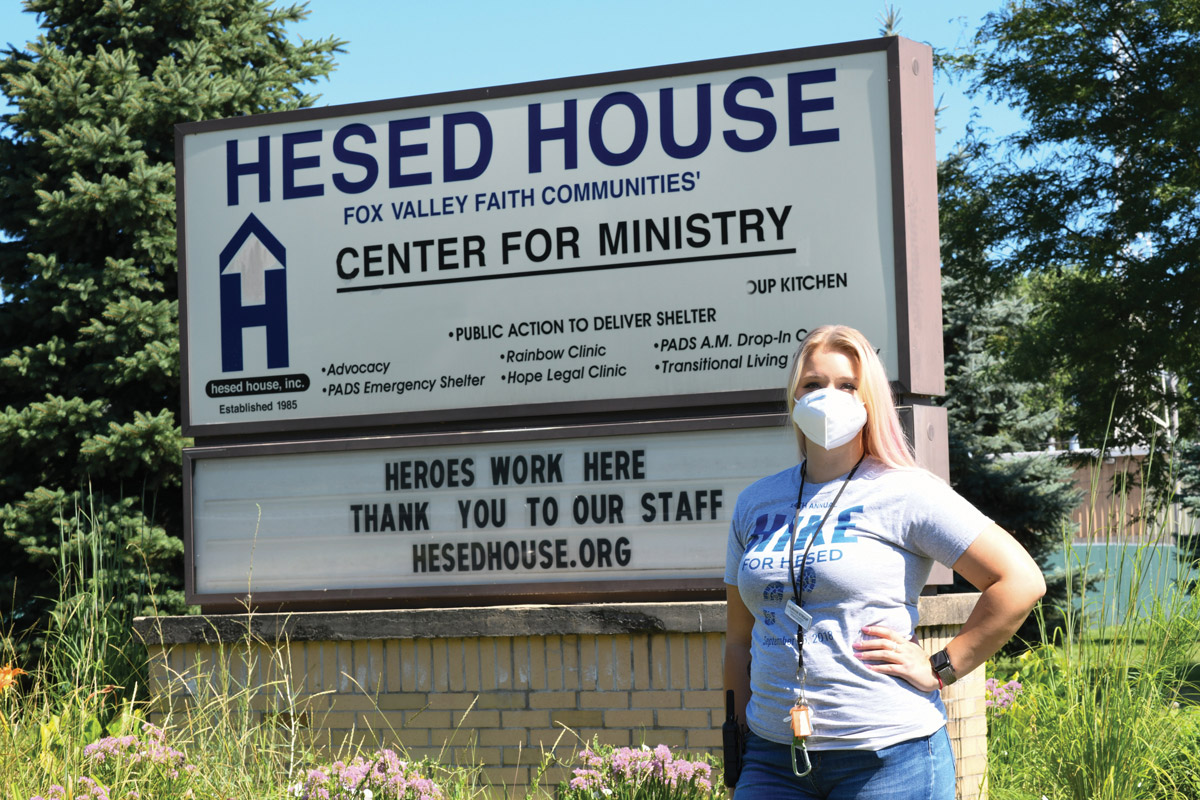 Defying the Odds: How an AU Grad Helped a Homeless Shelter Stop an Outbreak
Julianna Stroup '16, MPA '20 was working her way through AU graduate school as a bartender in March when the COVID-19 crisis prompted public officials to shut down all bars and restaurants in Illinois. Out of a job and looking to help, Stroup quickly moved to the front lines of the pandemic as assistant program director at Hesed House in Aurora, filling the gap left behind as volunteers — many of them older and at risk of infection — pulled back from their work at the homeless shelter.
When the pandemic reached Hesed House in April, Stroup, 24, put the skills she acquired in AU's Bachelor of Social Work and Master of Public Administration programs to work, doing everything from sanitizing surfaces to deescalating conflict among guests.
As the second-largest homeless shelter in Illinois, Hesed House takes care of some of the most vulnerable populations— the elderly, homeless, and immunocompromised, the same populations most susceptible to the coronavirus. By mid-April, after four people, a combination of guests and staff, tested positive for the virus, public health officials arranged for the shelter to move to a temporary home at a nearby hotel, where guests could have their own rooms and follow social distancing and quarantine protocols.
On a day that Stroup described as "insane but incredible," she and the Hesed House staff leapt to action, loading 200 guests and staff into school buses — along with food, supplies, and the guests' possessions — and moved the shelter to the hotel. Living onsite, Stroup worked the overnight shift for 60 to 80 hours a week. She made sure guests remained isolated while also seeing to it that they received food, clean clothing, and medical care.
Meanwhile, Stroup continued taking graduate classes at AU, which at that point had moved online due to the pandemic. After her 12-hour night shift, she would go back to her hotel room to attend class, study, and sleep.
When Stroup was an undergraduate, her mentor Don Phelps, a professor of social work at AU, encouraged her to take an internship at Hesed House. She was hesitant at first, but Phelps explained that she would have the chance to work with every population and learn more than she could ever imagine.
"And I did," she said. "I absolutely fell in love with it. All of my social work classes, all of the experience that I have learning about trauma, learning about psychology and psychiatry, the different factors that play into people's behaviors and sociology, it all makes me so much better at my job."
After a month at the hotel, the potential outbreak was quelled. No guests tested positive for COVID-19; surely, Stroup and Hesed House staff saved lives. Guests were all able to move back to Hesed House in Aurora, and the staff back to their own homes.
We defied the odds. Hesed House miracles are a real thing. Julianna Stroup '16, MPA '20
Stroup finished her degree in May. Draped in protective gear, the Hesed House staff held a makeshift graduation ceremony as guests cracked open their doors and cheered.
By July, she received a promotion to food ministry manager, where she is responsible for planning, coordinating, and cooking meals, along with other responsibilities. Stroup was nervous about coming into an executive position so young, especially a role that seemed to matter so greatly to people's lives. But her MPA classes at AU taught her how to manage other people and her own time, she said.
"We defied the odds," Stroup said. "Hesed House miracles are a real thing."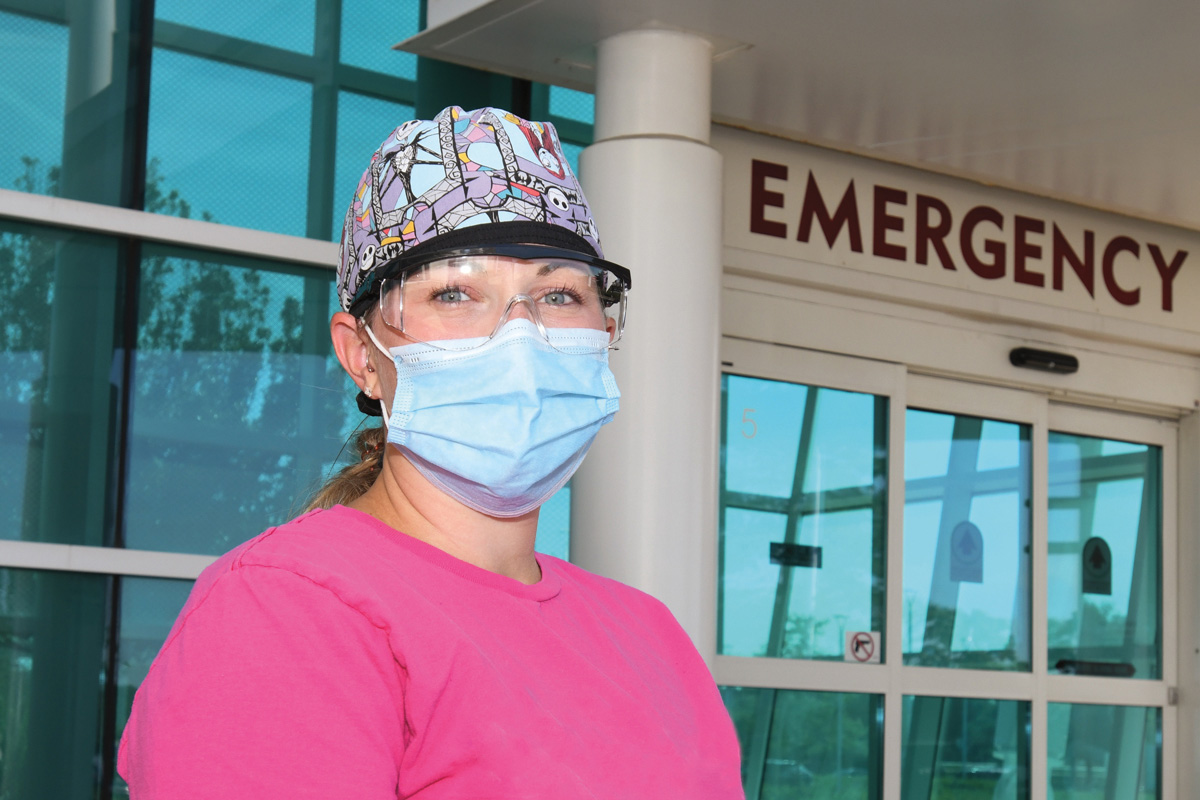 What an AU Nursing Professor Wants Her Students to Learn Amid the Pandemic
As a teacher and a nurse, Stephanie Yelton '08 knew that she needed to help her nursing friends deal with the coronavirus.
"Nurses, we're all altruistic," Yelton said. "We're like firefighters — we want to run to the fire instead of running away from it."
An assistant professor of nursing at AU, Yelton, 35, keeps current on the nursing profession by working part time as an emergency room nurse at Rush Copley Emergency Center in Yorkville. She had been working every third weekend when the COVID-19 crisis hit. As the demand for health care workers soared, Yelton stepped up and put her name in Rush Copley's labor pool, a list of workers available for extra shifts.
She quickly became a PPE coach, monitoring doctors and nurses as they put on and took off their personal protective equipment — glasses, scrubs, and masks. At the beginning of the pandemic, the symptoms of the virus were so vague that nurses and doctors dressed head to toe in PPE, even when patients came in with minor pains.
Dressing and undressing in personal protective equipment was an overly familiar activity to nurses and doctors, who were often tired and run ragged during the height of the pandemic. Yelton watched out for them, letting them know if they were skipping any steps, keeping her coworkers safe from potential infection.
Yelton also took on extra shifts doing forward triage, which required sitting outside of the ER and screening patients before they came into the hospital. Forward triage also meant crowd control. To the chagrin of many visitors, Yelton told them that they weren't allowed inside to visit patients.
"It was confusing and sometimes scary for everyone," Yelton said. "I worked as a nurse during the 2009 H1N1 pandemic, and it was different. We didn't have this level of fear. At the start of the coronavirus, everything was so uncertain, so new. The rules kept changing."
Yelton recalls checking her email and finding four policy changes made in a 24-hour period at the hospital. As more people became sick, Yelton became busier. One week, she taught a full load of classes and worked 36 hours as a nurse.
But even with the confusion and fear, Yelton relished her nursing shifts. Since so little was known about the virus at that time, doctors and nurses would frequently discuss research they read and better ways to treat patients. It was a "team approach," she said — the comradery felt amazing.
Yelton also loved the discussions she had with her nursing students at AU. They would talk about how to read nursing and medical research and what it takes to keep working through a crisis. They also discussed how important it is to take the extra time to interact with patients, especially at a time of uncertainty and anxiety.
"We need to connect and be caring and compassionate," said Yelton. "I don't think that can be fully taught, but it definitely needs to be reinforced."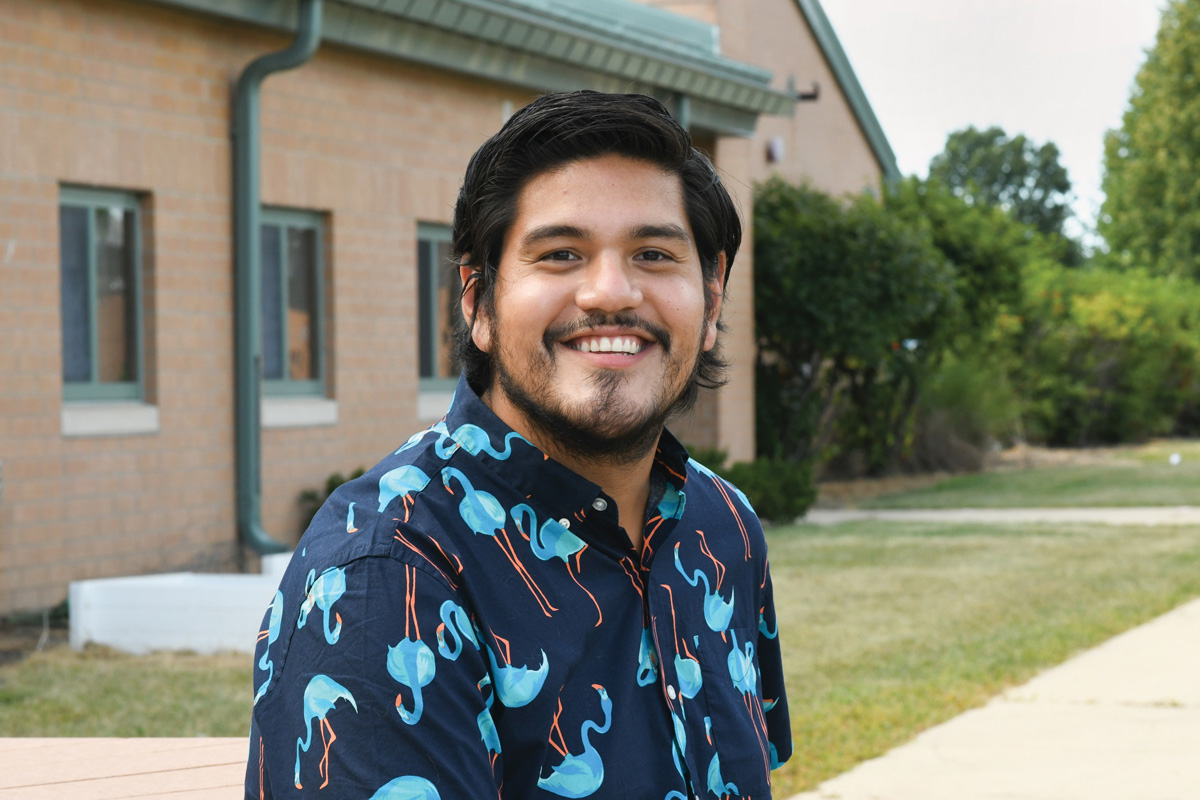 When Lessons Went Virtual, an AU Special Ed Teacher Got Creative
As a special education elementary school teacher, Jimmy Boyle '15, MASE '19 works hard to create a family atmosphere in his classroom so his students feel at home.
When Illinois closed its schools in March due to the COVID-19 outbreak and moved instruction online, Boyle knew that the upheaval would be particularly difficult on his students. He would have to get creative if he wanted to keep them connected when they no longer were coming into the classroom.
"A sense of family and community during a pandemic is just as important as academic instruction," said Boyle.
Boyle, 27, teaches students in the third, fourth, and fifth grades at the Kaneland School District. He learned the importance of personally connecting with students when he was at AU, where he earned a Bachelor of Arts in Business Administration and a Master of Arts in Special Education.
At AU, Boyle found the small class sizes and professors' accessibility to be engaging, which led him to love learning. He appreciated that he could send a message to a professor and be assured that he would receive a response. He intends to pass this love of learning on to his students with a similar style of engagement.
Last spring, as teachers experimented with ways to teach their students online, Boyle discovered that giving his students multiple ways to complete work and communicate with him improved their experience. They could connect with him for help or feedback through live video chats, ongoing dialogue on Google Docs, or a video learning tool called Flipgrid, among other platforms.
He created short video challenges for his students — for instance, how many math problems could students solve in a minute-long video? Students wrote to Boyle, telling him how much they liked the challenges. Do more, he recalls one of his young students saying — she wanted to see how many she could get right next time. Boyle was thrilled; if students were having fun, that meant they were engaged and learning.
A sense of family and community during a pandemic is just as important as academic instruction. Jimmy Boyle '15, MASE '19
Above all, Boyle wanted to make sure that all his students felt that they were still part of a family, whether they were learning remotely or in the classroom. He held nonacademic video meetings for students, filling with joy upon seeing the children and hearing them excitedly talk with each other.
"AU drove home to me the importance of close relationships, family feel, and a small setting," Boyle said. "That's what I continue to try to deliver to my kids."