Meet AU's First Artist-in-Residence
November 20, 2023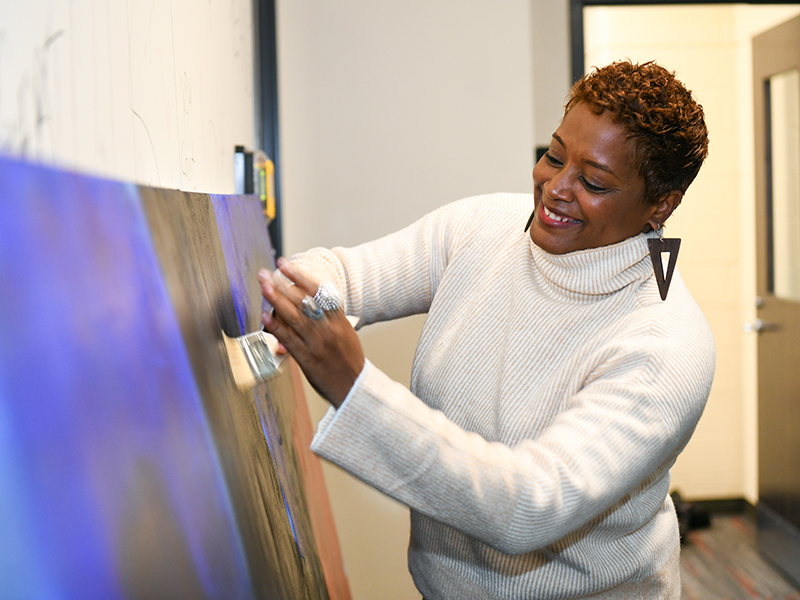 Rain Wilson—playwright, spoken-word poet, activist, actor, and educator—has been named Aurora University's inaugural artist-in-residence and interdisciplinary catalyst.
Wilson's artistic and educational work involves creating art for social justice and prompting dialogue for change. Her goal at AU is to develop projects that allow disciplines to intersect with art at the core, to support students and faculty, and to engage the local community.
"Art has the power to shake something loose and to build bridges," said Wilson. "I am interested in exploring how art can create community and solidarity and unify people."
A Chicago native, Wilson most recently worked in Indianapolis creating a commissioned play around the mental health struggles in communities of color. She also developed performance workshops for theatre art experimentation.
Her arts company, Life Change Projects, is directing and producing a play that will debut at AU's Celebrating Arts and Ideas series next spring. Wilson previously served as artistic director for the First Wave Spoken Word and Hip Hop Arts Learning Community at the University of Wisconsin–Madison.