AU awarded nearly $1 million for advanced technology lab
May 01, 2023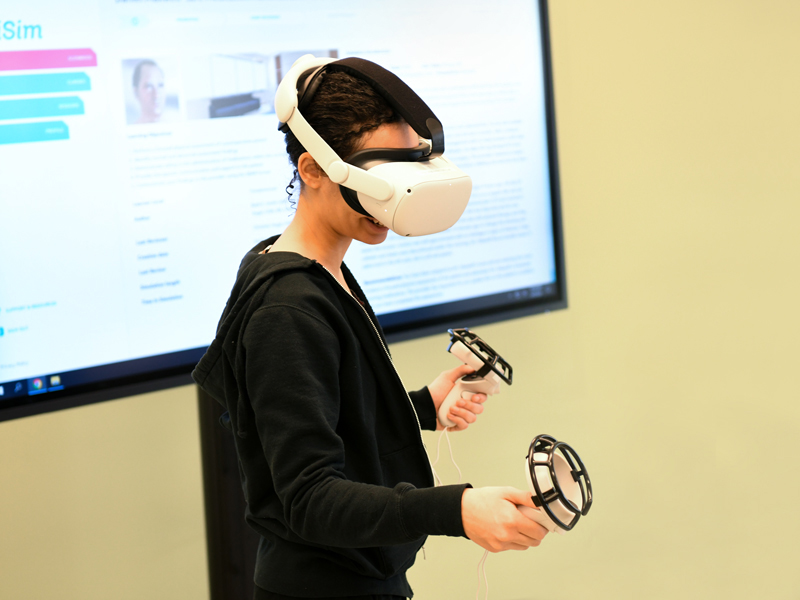 Aurora University received $955,000 in federal funding to create an Emerging Technologies Learning Lab that will bring to life new learning experiences for students across all disciplines.
The funds, which were secured with the assistance of U.S. Congressman Bill Foster, will be used to purchase new technology and equipment to enhance experiential learning opportunities for students and better prepare them for the workforce.
"I'm proud to secure this funding that will give students an opportunity to get hands-on experience with the rapidly-developing technologies that are driving the 21st century," said Foster. "With this equipment, AU is ensuring that its students are well-equipped with the skills they need to thrive and lead in our STEM-based economy."
Expanding hands-on opportunities for students of all majors
The Emerging Technologies Learning Lab will include three learning spaces: a virtual and augmented reality room, a workplace simulation room, and a visualization room.
Students will be able to experience real-life situations without leaving campus, such as:
Viewing what specific careers entail on a day-to-day basis in the Workplace Simulation Room.
Leveraging software to simulate the interview process and mock interview sessions.
Traveling to other countries to learn about cultures first-hand with the use of virtual reality headsets.
Learning soft skills, such as empathy, through simulated scenarios that demonstrate the different social realities faced by diverse populations.
Practicing public speaking in front of a virtual audience in the Visualization Room.
The advanced technology and equipment will be integrated across curriculum and programs starting in fall 2024 to help bring the theories and knowledge of the classroom to life.
"At the heart of Aurora University's mission is providing access – access to college for a highly diverse group of students, including many first-generation college students. And with 50 percent of our students qualifying for the highest level of state and federal aid, often access to advanced technologies can be difficult," explained Sarah Radtke, dean of the College of Health and Sciences. "With this funding, AU's new Emerging Technologies Learning Lab will be a hub on campus, designed to benefit all students."