Students gain career insights from AU alumni
February 24, 2023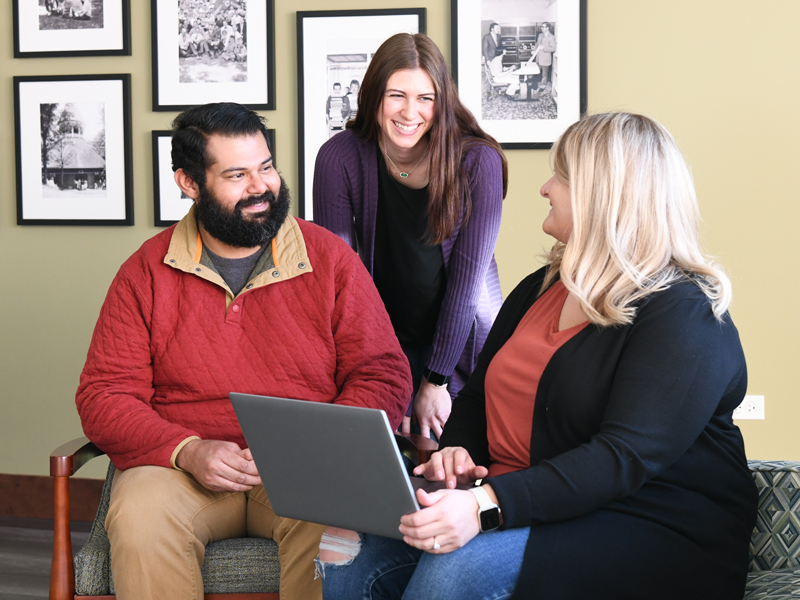 At Aurora University, an important part of a student's journey is to prepare for life after AU.
One way AU prepares students for success is by connecting current students with alumni to talk about careers, networking, and the day-to-day reality of the working world. AU's career services and alumni relations offices offer many opportunities for students to hear from alumni about their jobs, build their networks, attend presentations, or just have a casual chat.
Alumna Kylie Knur '18 did just that for two students.
Knur is a project manager and social media manager at JJR Marketing, a full-service marketing and public relations agency in Naperville, Illinois. 
"These days, marketing is such a broad job category with so many different roles, it's important for students to get hands-on experience and see what the day-to-day of each role really looks like," she said. "I thought it would be so meaningful to share what I know about the industry with others. I hope I'm helping students gain a better understanding of what marketing and PR roles are."
Knur was one of six speakers last fall at AU's Sundays @ 7 Career Conversations with Alumni. The Sundays @ 7 program taps AU's network of more than 41,000 alumni, inviting alumni to share lessons from their personal career journeys. The live, virtual forum allows students to hear from AU alumni about their transitions from college to careers, learn firsthand about the daily details of specific jobs, and gain insights into how to apply to and succeed in graduate school.
Students also discover the steps to building their own professional networks, often connecting with the alumni after the sessions. Many times, these connections lead to additional insights, mentorship, and even internship experiences.
For Hailey Ruhl '24 and Jonathan Alcantar '23, connecting with Knur opened the doors for meaningful, hands-on learning experiences.
"Kylie's job sounded exactly what I wanted to do," said Ruhl. "After introducing myself and asking some questions, she offered to help me gain experience through her company. I would like to work as a social media manager, and this experience is allowing me to learn how to create content and design posts as well as see how a marketing company works."
Since starting at JJR in 2018, Knur has served as an intern coordinator for more than 15 students. She also serves as a mentor for students like Ruhl and Alcantar, allowing them to assist her with weekly projects that align with their interests and shadow her and her colleagues to learn what day-to-day life in the field is like.
"Working with Kylie has given me a better understanding of what a marketing firm does," said Alcantar.
To learn more about Sundays @ 7 and register for upcoming sessions, visit aurora.edu/sundaysat7.