Two seniors awarded scholarships from business honor society
December 14, 2022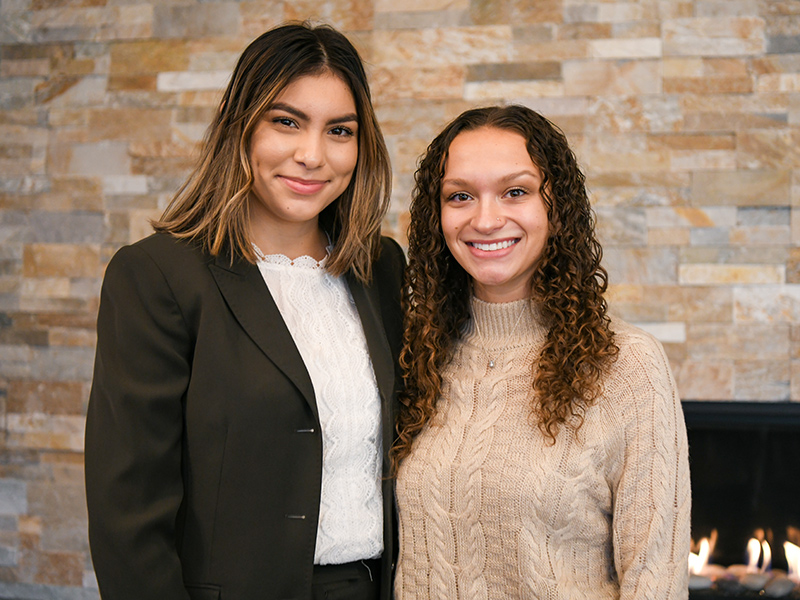 Seniors Dora Rodriguez '22 and Jordan Zwiezen '23 were recognized as recipients of the 2022 Delta Mu Delta scholarship program. DMD, an international honor society in business, annually recognizes outstanding business students through its scholarship program, which awarded $89,500 to 66 recipients this fall. Rodriguez received the $2,000 DMD Board Award and Zwiezen received a $500 Regional Award to help offset educational expenses.
Current undergraduate and graduate students who are Delta Mu Delta members are invited to apply for the scholarship program by submitting an essay that describes their character and ethical behavior, transcripts, and letters of recommendation. Individual awards range from $500 to $3,000.
Rodriguez, who graduates this December, used the scholarship to help pay for her last semester of undergraduate studies.
"I had to pay my way through school, so this scholarship provided great support which allowed me to focus on my studies," said Rodriguez. "With this scholarship, I will be graduating debt free."
Upon graduation, Rodriguez will begin her career as a sales development representative for Qualtrics as she studies and prepares to apply to law school. She aspires to become a litigation attorney.
For Zwiezen, in addition to covering part of her tuition, the scholarship has allowed her to explore a larger variety of potential careers. 
"This scholarship has made my resume more attractive to future employers, which will help me with my future career," she said. "I'm hoping to find a fitting role in a business field." 
Both students were inducted into AU's DMD chapter, Iota Phi, which was installed in March 2004. To become a DMD member, students must be a junior or senior with a minimum cumulative GPA of 3.75 and a major in business administration, business management, accounting, finance, or marketing.