5 steps to explore a career in healthcare administration
September 30, 2022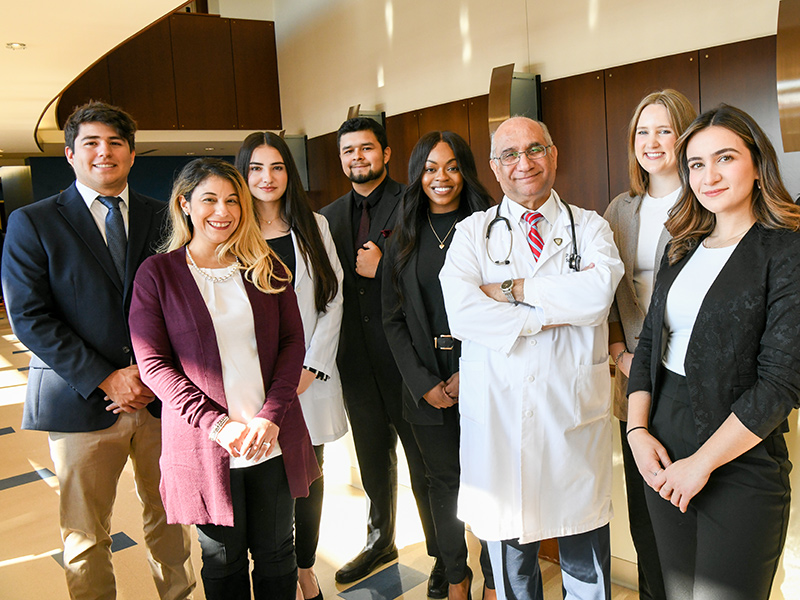 Doctors and nurses aren't the only professionals driving American healthcare. Look beyond the operating room, and you'll find a slew of healthcare jobs that keep the $4.1 trillion industry in motion.
Nearly 300,000 workers serve in the rapidly growing field of health administration – from middle management to CEO positions. Between 2014 and 2024, the U.S. Bureau of Labor Statistics reports a robust 17 percent growth in such careers.
"Without healthcare administration and the business side of healthcare, doctors and nurses will not really succeed," said Jay Shahed, MD, MBA, senior lecturer of health science and chair of Aurora University's healthcare administration program. "Both sides work mutually, and you cannot separate one from the other."
Shahed gathered 13 healthcare industry leaders together last week for a panel discussion at AU's first Healthcare Administration Symposium.  The event, held in the Crimi Auditorium, drew an audience of 250 students, faculty, staff, and community members.
Here is some of the advice the experts shared about exploring healthcare administration careers:
Remember that acute care is no longer the center of the universe
With more care moving to the outpatient arena, healthcare administrators have never been in higher demand. "More people are becoming what we call service-line leaders," said Bruce Elegant, retired president and CEO of Rush Oak Park Hospital. Service-line managers coordinate patient care and the flow of information in specialty areas such as cardiology, oncology, chronic care, and behavioral health, and more.
You can set your sights – and expertise – far and wide
The number of medical and health service manager jobs are growing four times faster than all professions, according to government statistics. The most pressing needs include nursing home administrators, information technology executives, practice managers, and health insurance managers. "We have so many different career paths," said Jane Cruz, a corporate recruiter for Legacy Healthcare, a Skokie-based provider of long-term healthcare services. You could run a clinic, distribute medical supplies, or start a technology nonprofit serving vulnerable populations in need of health insurance. The possibilities are limitless.
Tap that inner resolve
In the ever-evolving world of healthcare, you can go as far as your resolve and determination will take you. Pursue internships, attend conferences, and ask questions. "You are a valuable commodity," said Douglas Olson, president and CEO of Vision Centre/ACHCA and director of the Center for Health Administration and Aging Services. "You bring energy, insight, and different perspectives. The healthcare system can get better. We're counting on you."
Network, network, network
Surround yourself with strong mentors who will challenge you, not just agree with you. You can find mentors among your professors, during your internships, and by connecting with alumni. While LinkedIn is a critical tool for building connections, the best connections happen by talking to people. "Sometimes it might be that you're sharing a passion about the Bears or the Cubs, or playing golf together, or (sharing) some other aspect of your life," Elegant said. "In developing that relationship, you end up networking with people. I can't overemphasize the importance of networking."
The future is now
Much of healthcare has gone from outcome-based to value-based, meaning hospitals and physicians are mining data and evidence to decide which practices work and which don't. It stresses preventive health – such as making dietary and life changes – to reduce the need for expensive procedures and medications. Staying well cuts costs for everyone, and that's where healthcare administrators can help make a difference.
Ready to start your career in healthcare administration?
Fill out this form to learn about Aurora University.
Loading...