Remembering Roald Berg, 1934-2022
February 28, 2022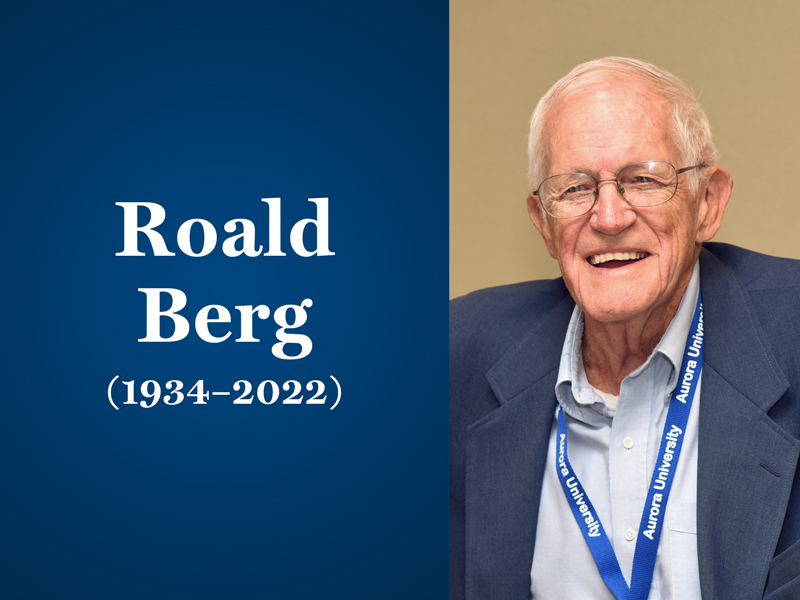 Roald Berg '56, who returned to his alma mater to teach mathematics and coach men's basketball, passed away. He was 87.
A lifelong Aurora resident, Berg distinguished himself throughout his career, and was selfless in his mentoring of Aurora College students.
Berg met the love of his life, Frances Waldron, when they were both students at Aurora College. They were married in 1956; she survives him after nearly 66 years of marriage.
Berg, who majored in mathematics, earned his Master of Science degree from the University of Florida. He received several National Science Foundation grants in support of his advanced education.
In 1966, Berg joined the faculty at Aurora College, later renamed Aurora University. He served as the head men's basketball coach until 1974. While coaching men's basketball, he won three conference championships. Berg retired as an associate professor in 2000. He earned emeritus status and was recognized by the university with several awards for his influence, leadership, Spartan Spirit, and ongoing commitment to education.
In addition to coaching men's basketball, along the way, he also coached women's basketball, men's golf, and cross country.
He received the Spirit Award in 1993. In 2002, he was awarded the Roger Parolini Lifetime Achievement Award, and, along with his wife, Frances, was honored with the Helena Wackerlin Award.
Berg was honored by the city of Aurora in 2004 with the Community Volunteer Award as a member of the Aurora Community Study Circle. He was known for his exceptional handyman skills, and there are countless stories of fellow Aurora College and family members asking Berg for his assistance.
Berg was inducted in the Aurora University Athletic Hall of Fame in 1988; he played basketball all four years as an undergraduate. He was influenced in both his teaching and coaching career by his Aurora College basketball coach, Ray Rosenthal.
A proud Norwegian, Berg was an active member of the Sons of Norway, traveling to Chicago for numerous meetings and events. Berg remained active in teaching. He tutored mathematics to grade school students and nurtured lifelong friendships throughout the city of Aurora.
Berg also served as president of the Aurora University Alumni Association three different times. Just as he coached and motivated countless basketball players, Berg guided the Alumni Association through presidential transitions with great diplomacy and care.
Living in the Aurora University neighborhood, Berg was a regular visitor to campus, supporting the arts, athletics, alumni events, and fundraising projects. He and his wife were early supporters of the pipe organ installation in Crimi Auditorium, and worked tirelessly with classmates to raise the necessary funds.
We invite you to share your memories of Professor/Coach Berg, which we will pass along to his family, at alumni@aurora.edu.
Healy Chapel of Aurora is assisting the family with arrangements.