Remembering Homer Easley, 1937-2022
January 24, 2022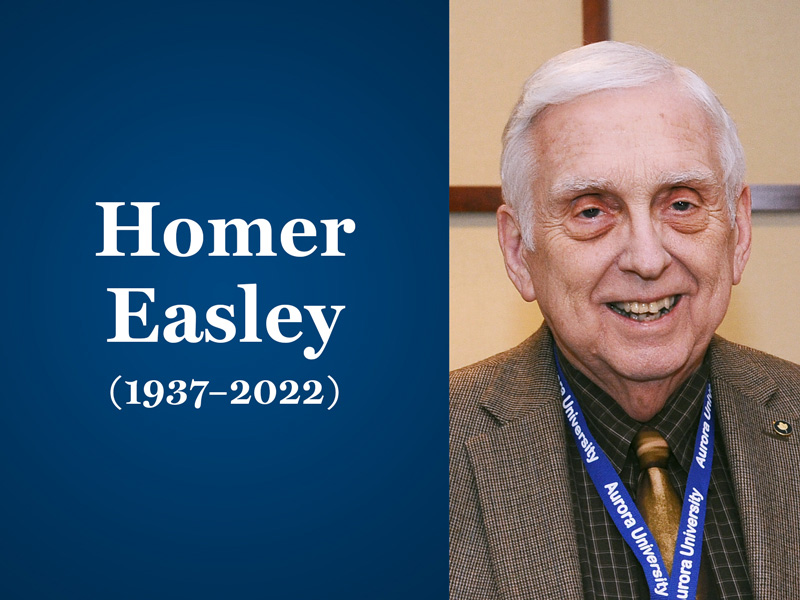 Aurora University shares the sad news that alumnus and former faculty member Homer Easley '59 died Sunday, January 23, 2022. He was 85. He is survived by his wife of 61 years, Pauline (Barton) Easley '59 '87, their two children David '84 and Sheryl '87, and their seven grandchildren, one of whom is enrolled as a current AU student.
Homer came to Aurora College as the first member in his family to do so. Having been influenced by Sputnik and his nation's call to beef up the sciences, Homer majored in physics, planning to teach high school science after graduation. He and Pauline were married the weekend after graduation and then moved to Baltimore where Homer enrolled at Johns Hopkins University to continue his study of physics.
A call from then-President James Crimi and Dean Mark Trumbo brought Homer and Pauline back to campus. Homer was invited to replace then-retiring Professor Clarence Smith. Homer accepted the position, working part-time while he completed his studies at Northwestern University, where he earned his master's degree.
Homer began a 30-year-plus year career at the college, teaching physics and mathematics. In the early 1970's, he became interested in computers and did additional graduate work in computer science at Northwestern. He was the first professor at Aurora College to teach computer science and he established the Computer Science Club on campus. Students who studied with Homer or who were members of the club often recalled how he would "give them the key to the room where the college's only computer was located."
Homer became chairman of the computer science department and later dean of information science. He was the person responsible for computerizing all administrative functions on campus. In the mid-1990's, searching for new challenges, Homer became director of development for the university.
After more than 30 years at AU, Homer accepted the full-time position of director of development at Wayside Cross Ministries in Aurora. He worked there full-time for 5 years before retiring from that position. He stayed at Wayside Cross for another decade, working part-time as the primary information technology staff person and database administrator.
A man of deep faith, he was active in the Aurora Advent Christian Church for more than 50 years, serving in various capacities including chairman of the committee to build the new building on Edgelawn Avenue in Aurora, as an elder, computer technician and even a Sunday school teacher on occasion. He also served as president of the Central Region of the Advent Christian denomination.
Homer was recognized by his alma mater in 1992 with the Distinguished Alumni Award. In 2014, as part of the John C. Dunham Partnership School, the Homer Easley Seminar Room was established. The space is used for a variety of purposes, including showcasing student-faculty research projects, lectures, and symposiums.
Naming the largest and most versatile space for Homer Easley honored his legacy and the zeal for learning that he shared with his students and in every endeavor he took throughout his life.
In 2012, Homer and Pauline sat for a Storyteller interview. Watch the video here.
We invite you to share your Homer stories and memories, which we will share with his family.