Basma Outhman '21 honored as Student Lincoln Laureate
February 22, 2021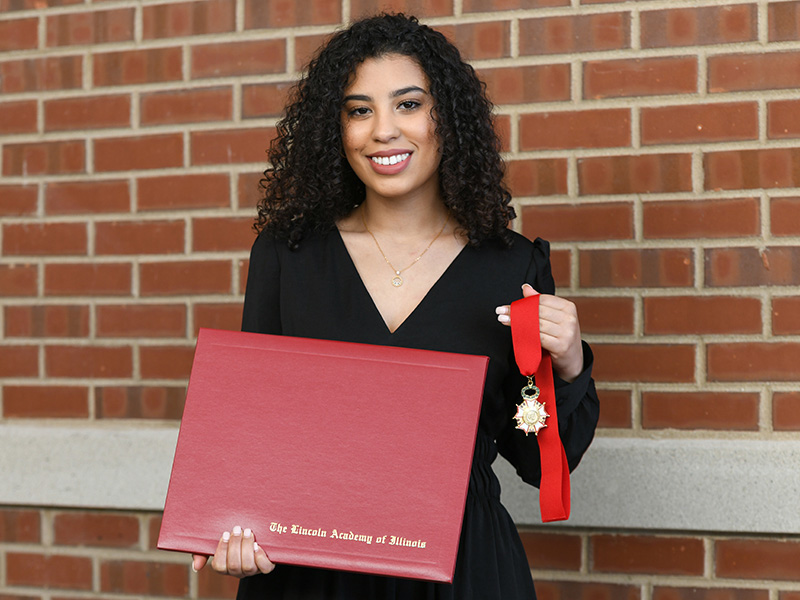 Aurora University student Basma Outhman '21 has been recognized with the Abraham Lincoln Civic Engagement Award, representing AU as Student Laureate of The Lincoln Academy of Illinois.
In the spirit of Abraham Lincoln, Student Laureates are honored for their "leadership and service in pursuit of the betterment of humanity and for overall excellence in curricular and extracurricular activities," according to the Springfield, Illinois-based nonprofit organization.
Outhman is president of AU's Pre-Law Club, secretary of the AU Student Association, and chair of special events of the Activities Programming Board. Her other campus activities include membership in the Social Work Association and service as a Spartan Ambassador in the Office of Admission. She also volunteers as an Arabic translator for World Relief and is a member of the United Nations Association of Chicago.
Upon graduating with Bachelor of Social Work with minors in pre-law and French, Outhman plans to pursue her Master of Social Work, then apply to law school. Her goal is to become a human rights lawyer, combining her knowledge of social work and the law to serve the greater good.
"I want to represent and advocate for the vulnerable population and help protect their rights," Outhman said. "As a student at Aurora University, I am very grateful for all the opportunities I have been given to pursue different leadership positions and to be part of something that truly has fulfilled me and given me purpose."
Each fall, The Lincoln Academy awards the Abraham Lincoln Civic Engagement Award to one outstanding senior from each of the participating colleges and universities in Illinois. The Student Laureates receive a letter and certificate of merit signed by Governor J.B. Pritzker, a Lincoln medallion, a challenge coin, and a $500 check. The awards ceremony is typically held at the Old State Capital Historic Site in Springfield, Illinois, each fall, but was held virtually in 2020 due to the pandemic restrictions.