Jacqueline Woodson on how slow reading leads to great writing
August 07, 2020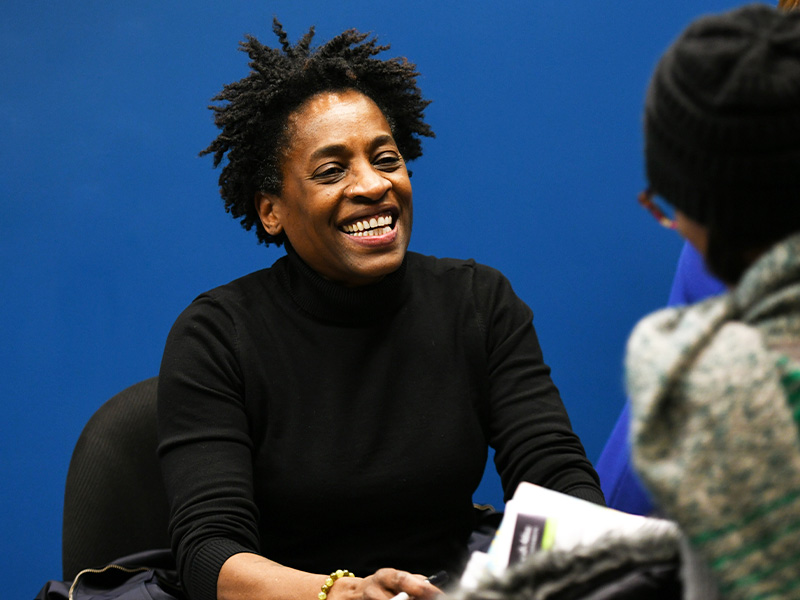 It is National Book Lovers Day on August 9, so what better day to ditch your smartphone and linger over a good book? We reached back into the spring issue of Aurora University Magazine to see what award-winning author Jacqueline Woodson shared with AU students about the art of reading.
Books are powerful. No one knows that better than Jacqueline Woodson, the nationally renowned, award-winning author of more than two dozen books for children and young adults.
"Books give us a strength and a clarity that we don't get in a lot of other places," said Woodson, who grew up in two very different American places — South Carolina and New York City.
For the past 14 years, Aurora University has invited authors at the pinnacle of their careers to campus as part of the university's Celebrating Arts and Ideas series. The events are free and open to the public and, whenever possible, preceded by an educational session with AU students.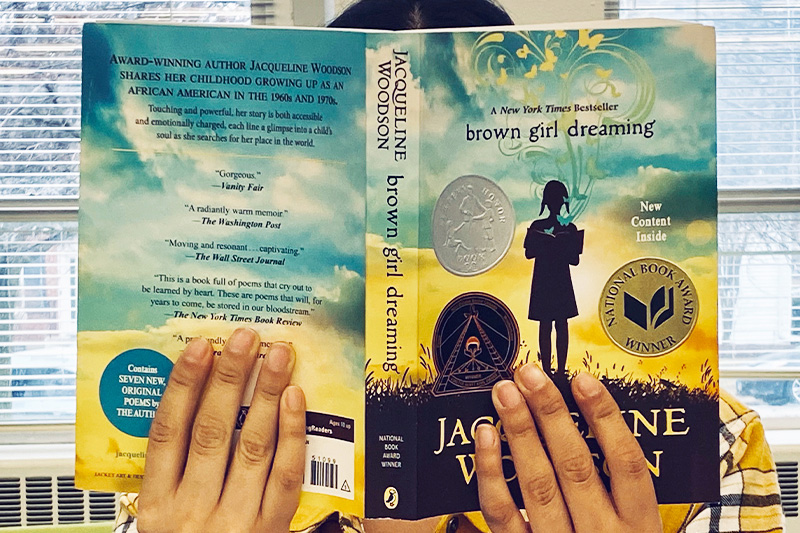 In January, Woodson spent an hour with students from AU and local middle and high schools discussing reading and writing, before she took the Main Stage at Crimi Auditorium for the public event. She talked about her acclaimed memoir "Brown Girl Dreaming", her writing process, and why she has such a deep respect for young people. Gerald Butters, chair of the history department, moderated the student session. Here are a few highlights:
Q: How do you write for children?
A: I have a deep respect for young people. I have a deep respect for my own adolescence. Because of that, I can't imagine writing something didactic. I never sit down to write because I want to teach. I sit down to write because I have all these questions that I have to figure out.
Q: Where do your story ideas come from?
A: There is a saying I heard a long time ago: If you survive kindergarten, you have enough to write about for the rest of your life. And I believe that. I think things happen to us every single day that seem ordinary, but aren't. For me, you wake up in the morning and the place you live is very different from the place someone else lives, and it matters just as much.
Q: Why is reading so essential if you want to be a writer?
A: One thing about me is I am a very, very, very, very slow reader. And I've always been a slow reader. I've had to read things over and over again to completely understand them. I didn't know until I was an adult that this is how you learn to write—by reading slowly, by deeply engaging in the text, by copying the way other writers write, by reading things again and again. When people tell me, "I read your book in one day," I tell them to go back and read it again. It took me three years to write that!
Q: How do you know when you're done with a book?
A: As a writer, you ask yourself: What does the character want and how are they going to get it? That's the whole hero's journey. I never know where a story is going or what it's trying to say. But you put two people in a room and you have character, you have setting, you have conflict the minute they start talking, and your story is on its way.
Q: What do you do when you finish a book?
A: I take a break from the book, and I don't read it again until I get my first good review. And then I'll go back and read it cover to cover. I never let my editors send me any bad reviews, and for all you writers, I encourage this. If you only get good reviews, you think you're amazing. Also, with bad reviews, there's nothing you can do. You've written the book. You can't rewrite it because someone didn't like it. It's not going to help your next book, because you've already written this book and grown from it. So I encourage you not to read bad reviews.
Q: Do you carry your characters with you even after the book is done?
A: Every single character I've ever written is still a part of me. There is still the "Brown Girl Dreaming" inside of me, and she'll always be there.