Schingoethe Center opens new exhibition on figurative art with Illinois State Museum
February 10, 2020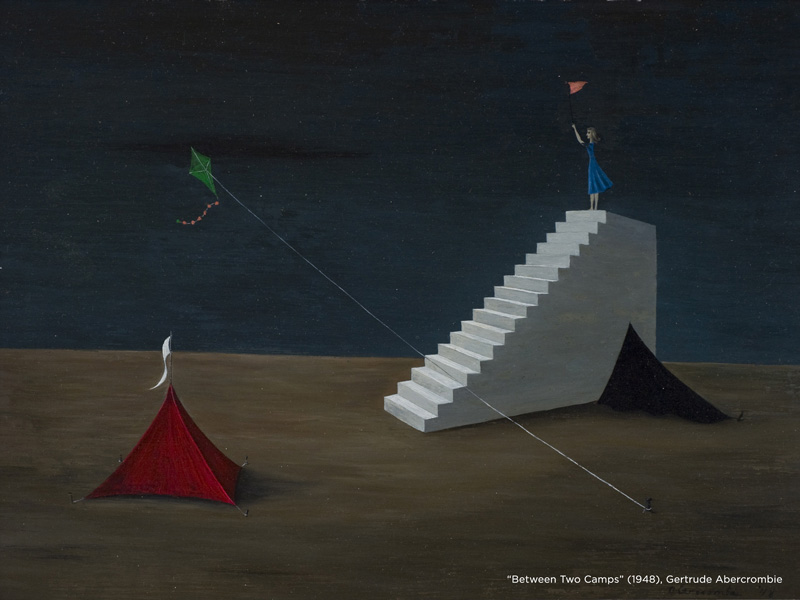 The Schingoethe Center of Aurora University opens its newest exhibition focusing on how Illinois artists have represented the human body with an eye to the narrative and fantastic.
Curated by Douglas Stapleton, "Figurism: Narrative and Fantastic Art from the Illinois State Museum Collection" brings together artwork that emphasizes the power and the range of the narrative and expressive human figure in Midwestern art.
The artwork in the exhibition were selected from the Illinois State Museum's Legacy Collection to celebrate this pluralism of styles and content. 
All the works share an adherence to some form of representation, and the power of the human figure to carry feeling, memory, and experience. Additionally, they have been selected with an eye towards something fantastic — a heightened sense of the super-real, supernatural, whether through aggressive, expressive form, high-keyed color, inventive graphics, or ambiguous situations. They push beyond simple answers that spark us into thinking about our lives.
The exhibition includes work made by more than 50 Illinois artists from 1908 to the present. "Figurism" features paintings, prints, drawings, photographs, and sculptures. Artists featured include Gertrude Abercrombie, Ivan Albright, Phyllis Bramson, Eldzior Cortier, Hector Duarte, Indiana Gyberson, Mister Imagination, Riva Lehrer, Marion Perkins, Marva Lee Pitchford Jolly, and Ed Paschke.
"Figurism" opens on Tuesday, February 11, 2020, with a reception from 5 to 6:30 p.m., and runs through Friday, April 24, 2020. The Schingoethe Center is located in the Hill Welcome Center at 1315 Prairie St., in Aurora, Illinois. The museum is open Monday, Wednesday, Thursday, and Friday from 10 a.m. to 4 p.m., and Tuesdays from 10 a.m. to 7 p.m.
A list of events during the exhibition are as follows:
Curators Lecture: DOUGLAS STAPLETON
"Strange Bedfellows: The Enduring and Very Vocal Figure in Illinois Art"
Tuesday, February 11, 2020
6:45 p.m.  |  Tapper Recital Hall
Refreshments will be served.
Douglas Stapleton, associate curator of art at the Illinois State Museum, will look at the enduring and varied presence of the figure as a narrative tool in modern and contemporary Illinois art. Stapleton will connect individual works in the exhibition to larger social concerns and artistic movements, such as Symbolism, American Scene painting, Surrealism, and Magical Realism.
Gallery Talk: DR. NATASHA RITSMA AND LAURA RUSSMAN
"Celebrating Women's History Month: Female Artists from the Illinois State Museum Collection"
Tuesday, March 10, 2020
5:30 p.m.  |  Schingoethe Gallery
"Figurism: Narrative and Fantastic Figurative Art from the Illinois State Museum Collection" includes a variety of artwork created by more than 25 female artists over the last 100 years. Natasha Ritsma, Director, Schingoethe Center and Laura Russman, Curator of Collections, Schingoethe Center, will lead an in-gallery conversation about the work and lives of these significant Illinois artists.
Lecture: VESNA STELCER
"Ed Paschke: Chicago Icon"
Tuesday, April 14, 2020
5:30 p.m.  |  Tapper Recital Hall
Join Vesna K. Stelcer, co-founder and director of Chicago's Ed Paschke Art Center, for an insightful conversation about the iconic artist Ed Paschke, the founding of the Ed Paschke Art Center, and Paschke's enduring legacy.