Spartans capture conference championships
January 02, 2020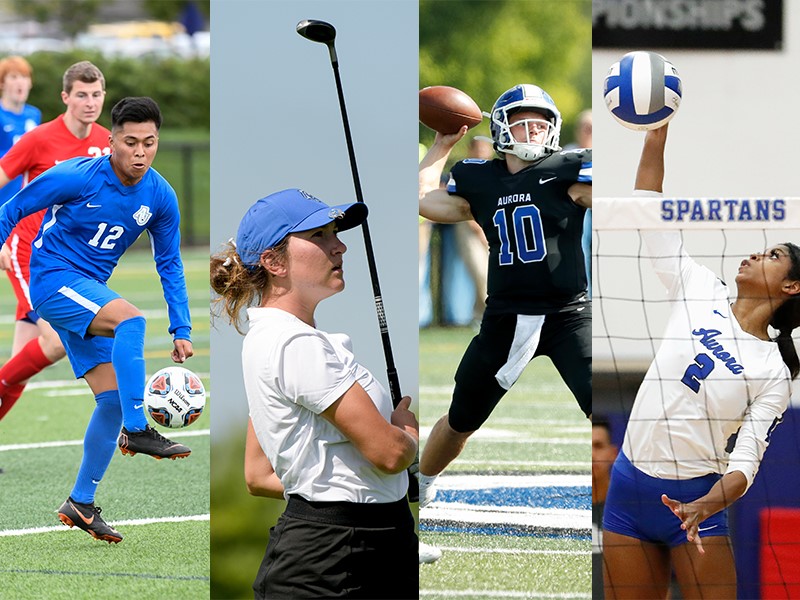 Student athletes and Spartan fans had a lot to celebrate during the fall 2019 season with four AU teams clinching Northern Athletics Collegiate Conference (NACC) championships:
Football
Not only did the Spartans win the NACC championship with a perfect 7-0 record, the team also competed in the 2019 National Collegiate Athletic Association (NCAA) Division III playoffs for the first time in more than a decade. Junior quarterback Gavin Zimbelman was named one of five finalists for the 2019 Gagliardi Trophy, the premier individual award in NCAA Division III football. The award recognizes excellence in athletics, academics, and community service. Head Coach Don Beebe also became the first AU head coach to earn the D3football.com North Region Coach of the Year award. The Spartans return to action in the 2020 season on Saturday, September 5, when they travel to Saint John's University in Collegeville, Minnesota.

Men's Soccer
The men's soccer team finished the 2019 season with a 13–5–1 overall record. Individual postseason accolades include Spartan sophomore defender David Cahue as the 2019 NACC Defensive Player of the Year. Head Soccer Coach Ryan Lakin was selected as the 2019 NACC Coach of the Year.

Women's Golf
The women's golf team captured the NACC title with a 27-stroke victory in the three-day conference championship tournament. The team will head to the NCAA Division III Women's Golf Championship in the spring.

Women's Volleyball
Despite dropping a closely played five-set final conference match, the women's volleyball team was able to lay claim to the NACC championship (as co-champions). The team then
returned to the NCAA Division III Women's Volleyball Championship playoffs for the third straight season. Individual postseason accolades include the American Volleyball Coaches Association naming freshman outside hitter Sydnei Avery as Midwest Region Freshman of the Year. She also earned First-Team All-Region honors along with junior libero Julia Wood.
The fall championships follow the success of four spring 2019 sports teams, which also captured NACC championships: women's indoor track and field, men's and women's outdoor track and field, and men's golf. AU swept the NACC All-Sports Awards for the year, recognizing the program's excellence across all sports.
This success comes on the heels of the Spartans achieving their second highest finish ever — 61st of 442 athletic departments — in the Learfield Sports Directors' Cup Division III standings for the 2018-2019 academic year. The Learfield Cup is a comprehensive ranking of intercollegiate athletic departments based on participation in NCAA championship events.
For Spartan sports news, click here.