40 tips for incoming students
August 09, 2019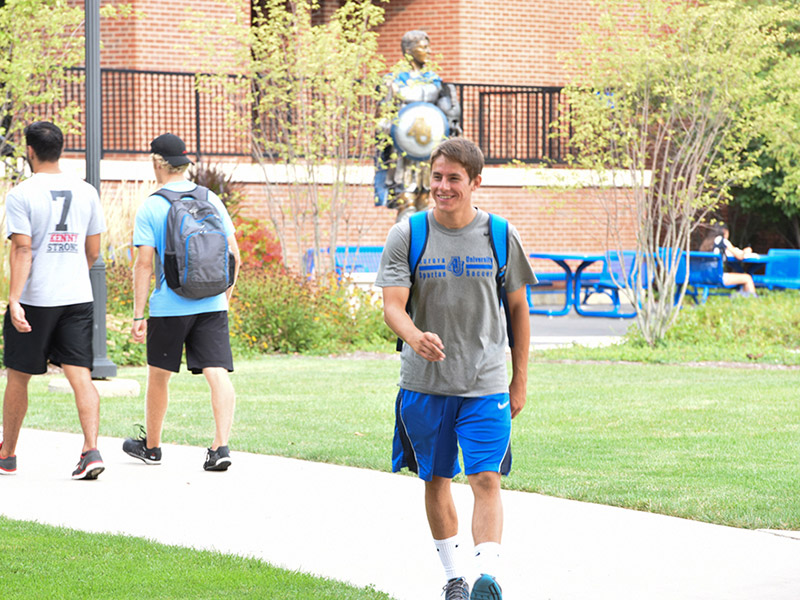 We recently asked our Instagram followers to share advice they have for the Class of 2023 as they prepare for their first semester at AU. Here are some of our favorites:
For Resident Students
Talk with your roommates to coordinate what you all are bringing, like TVs and microwaves.
You probably don't need as much "stuff" as you think you do.
Let your mom unpack and your dad put everything together. They are in a transition too!
Let your parents hang out on move-in day! It's a significant day for you and for them.
Going around and introducing yourself to your floor mates is the fastest way to make new friends.
Use your leftover meal points at the end of the semester to donate food to a shelter!
For Commuter Students
Leave with plenty of time to find a parking spot and have walking time!
Get involved! Just because you don't live on campus doesn't mean you still can't participate!
Find friends who are commuters and residents to have a great variety of people to hang out with.
To make friends easier and faster, join clubs and be sure to study in groups after class!
Try to get involved in stuff early on so that way you're on campus more.
Find cozy areas on campus where you can relax and decompress.
During long breaks utilize the Spot, library, or Dunham Atrium to get work done!
Bring healthy snacks for in between classes or invest in a meal plan.
Getting a meal plan is cheaper than buying individual meals on campus every day.
Don't be afraid to fully experience all the fun AU has to offer!
In the Classroom
Be sure to arrive to class early to get a good seat!
Utilize the smaller environment and make connections with professors and classmates.
Make an effort to have a meaningful relationship with your professors! It will help you!
Don't be afraid of professors who really push you to be an amazing student.
Learn how to prioritize tasks and manage time, and to try new things, too.
Take classes outside of your major that interest you. It might turn into a second major!
Don't fall behind with homework. It's extremely important.
Go to class! It's not like high school where it's okay to miss one day. You will be so behind!
Take the best notes you can and lend them to people who miss class. They'll return the favor!
Don't be afraid to ask for help! Everyone wants you to be successful!
On Campus Involvement
Get involved in the activities during Welcome Weekend and bond with your peers!
Get involved with all the fun events going on around campus and in clubs!
Go to sports games with friends and cheer on your classmates.
Attend the fun events AU has to offer!
Volunteer! It helps you build your resume, and gain experience and new friends along the way.
Join clubs or sports and meet new people!
Make friends and go to on campus events. Most of all have fun while getting your degree.
About College Life in General
Be open to new things, be kind to everybody, and experience a little bit of everything.
Remember that everyone else is nervous, too, so share a smile and start a conversation.
Don't be nervous, this is a fresh start for you all. Enjoy it and take time to try new things!
Be open-minded about other people's viewpoints.
Set goals for yourself early on, and go out and make it happen!
Step out of your comfort zone! You'll be amazed by how many new things you might like!
Make your experiences count and utilize all AU has to offer.