Remembering John Curran: associate professor of theatre
July 12, 2019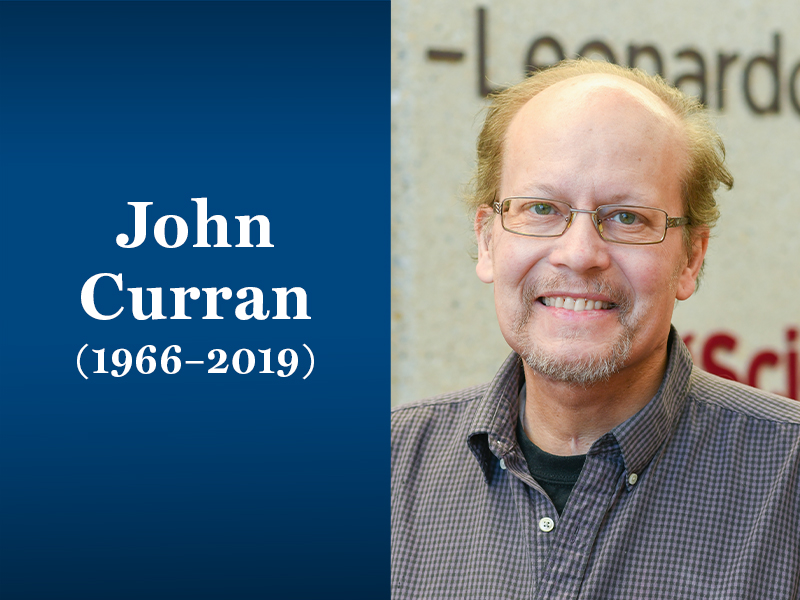 Aurora University is saddened to announce the death of John Curran. He was a valued member of the Theatre Department as an associate professor and technical director and also a great friend to the many students with whom he came in contact. He died Thursday, July 11, 2019.
"John was a kind and gentle man," said President Rebecca Sherrick. "His artistry was evident in every AU set.
"For years, I stifled my desire to peek behind the Perry Theatre curtain to catch a glimpse of John's next theatre set. I wanted the fun of seeing it for the first time at a production. I was always amazed by his ability to share insights into a particular work through his technical artistry. We will miss him terribly."
"The breadth of John's knowledge about theatrical artistry was unparalleled," said Stacy Searle-Gulli, associate professor of theatre and chair of the Theatre Department. "He was kind and patient and so very encouraging of our students as they built beautiful, functional art together. Truly a master of teaching and craftsmanship. It was always an honor to work with him."
"He was one of the kindest men I knew," added Stacy Joyce, associate professor of theatre. "He was a true mentor and inspiration to me at AU. Our department will not be the same without him."
John began his career at AU in August 2006 as a faculty member. His wife, Tavia DeFelice, also works in AU's Theatre Department as a scenic supervisor. AU is asking everyone to keep Tavia and their children, Emily and Ian, in their thoughts and prayers.
The visitation for John is on Wednesday, July 17, from 3 to 9 p.m. at Knollcrest Funeral Home, 1500 S. Meyers Road (3 blocks south of Roosevelt Road) in Lombard. On Thursday at 9:15 a.m., the funeral will leave from the funeral home for St. Pius X Catholic Church, 1025 E. Madison in Lombard, for a 10 a.m. mass. Entombment is at Queen of Heaven Cemetery. Memorials to St. Jude Children's Research Hospital, 501 St. Jude Place, Memphis, TN 38105, are appreciated.