Three AU students find free tuition in birthday egg hunt
May 01, 2019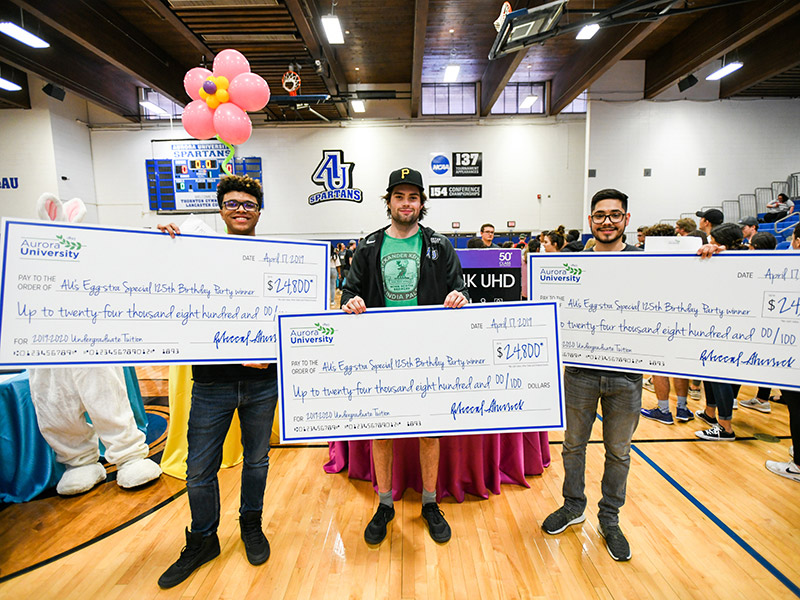 Spring blossomed early for three students this year. Last month, they won a year of free tuition at AU's Egg-stra Special 125th Birthday Party and Egg Hunt.
Cameron Beaudry, Lamanuel Winfret, and Rogelio Martinez each found a grand prize. They were among more than 1,700 students who participated in the midday egg hunt on the main quadrangle and elsewhere on campus.
"I was in shock at first," Beaudry said. "I could not believe it. Once it set in, I was extremely happy."
"I only picked up one egg that day, and it was on the southeast corner of Eckhart Hall," said Winfert. "I was really happy and excited, even though I am not a person to jump up and down. I would have had to take out loans every year. I'm going to just save the money."
"I currently work a full time job at Walgreens as a pharmacy technician to be able to pay for tuition and materials," Martinez said. "This is sometimes really stressful because I have to make time to complete my coursework, even if it requires me to stay up late several days a week. The free tuition will allow me to have a less stressful school year by only working part time. Then I can focus more on my classes."
Beaudry, a Canadian citizen, said the free tuition is especially helpful because the Canadian-to-U.S. dollar exchange rate is particularly burdensome this year.
The event was one highlight of a yearlong celebration of the 125th anniversary of the university's founding. Students lined up far in advance of the event in Thornton Gymnasium, eager to win prizes such as reserved parking spaces, a laptop, an Apple Watch, and a 50-inch television.
"My teammates were the first to know," Beaudry said of his fellow AU Hockey Spartans. "I had a gold egg and they knew right away that I had won something big."
"I texted my mom, then called my aunt and my grandma," Winfert said. "At first they were all in disbelief. But then I sent them a picture of the check."
Martinez said, "The first thing that came to my mind was to tell my parents about the great news. When I got home with the big check, my mom had a big smile on her face and was full of joy."
AU concludes its 125th year this week, with a reception on Thursday, the all-campus picnic on Friday, and Commencement on Sunday.