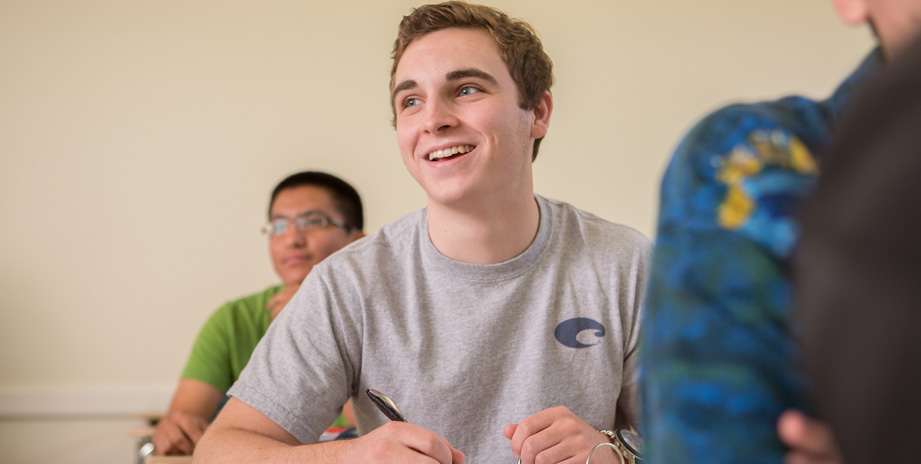 The Bachelor of Arts in History program at AU is designed to provide you with a strong foundation in research and methodology, writing, critical thinking and reading. The rigorous curriculum focuses on providing a wide breadth and depth of historical analysis, including study of Western and non-Western cultures, to prepare you for graduate studies or careers in a variety of fields. Through an array of course choices, you can customize the major to suit your interests while gaining the knowledge of historical contexts needed to be a productive global citizen.
You'll also have opportunities for internships with our on-campus historical archives and museums as well as other organizations in the Fox Valley and the Chicagoland area.  For students interested in teaching careers, we offer a distinct track to complement the secondary education major and prepare you for Illinois licensure.
General studies emphasis
Courses include historical methods, American history foundation courses, a reading seminar on changing topics, a senior seminar that focuses on research, writing and interpretation, and a wide range of electives. The emphasis is designed for students interested in pursuing graduate studies, law school or other professional careers.
Secondary education emphasis
Courses prepare students to teach social studies at the middle- and high-school levels with history and methods courses as well as courses in economics, political science, and social and behavioral sciences. If you choose the secondary education emphasis, you will also pursue a supplemental major in secondary education. Upon completion, you will hold a Bachelor of Arts in History and will meet the requirements to obtain a teaching license in the State of Illinois.
Many students choose to pursue an interdisciplinary education by pairing the history major with a major or minor in art, English, film, international studies, museum studies, political science, religion or sociology.
Program Overview
To earn an undergraduate degree in history, you will complete at least 120 semester hours total in general education and history courses.
The Bachelor of Arts in History, general track, includes:
28 hours of required courses and a senior seminar
At least 16 hours of elective courses, with a minimum of four hours of Western Civilization/European history courses and four hours of non-Western history courses
The history internship is strongly recommended, but not required.
The Bachelor of Arts in History, secondary education track, includes
30 hours of required courses and a senior capstone
At least 12 hours of elective courses, with a minimum of four hours of non-Western history courses. Introduction to Historical Methods is strongly recommended, but not required.
24 hours of the following courses outside of the history department:

ECN2010  Principles Economics (4)
PSC1500  International Relations (4)
PSC2110  Introduction to U.S. Government (4)
SBS1100  Introduction to the Social Sciences (4)
SBS2100  Human Geography (4)
SBS3820  Secondary Methods in Social Studies (4)
The minor in history includes:
18 semester hours, including either American History I or American History II. Students completing the minor are not eligible to take the senior seminar course.
Careers
The history program at AU prepares students for advanced graduate studies in a variety of fields, including history and historical administration, education, law and museum studies. Students also are prepared to enter the workforce as archivists, civil or foreign service officers, museum staff, political campaign advisors, publishing assistants and teachers.