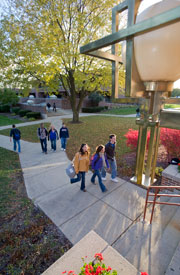 Submitting your application online is fast, easy, secure and free since the application fee is waived for all online applicants.
If you have any questions, please feel free to contact an admission counselor at admission@aurora.edu or call us at 630-844-5533 or 800-742-5281.
Click here to learn more about our academic programs.
We look forward to hearing from you!
Undergraduate Applicants
Please Note: Undergraduate applicants should make arrangements to have the following information submitted to complete their online application:
ACT or SAT scores (ACT College Code = 0950; SAT College Code = 1027)
Submit all official transcript(s) to:
Office of Admission and Financial Aid
Aurora University
347 S. Gladstone Ave.
Aurora, IL 60506
Graduate Applicants
Doctorate Applicants
---
Note: If you attempt to submit an application and get a "Connection is trusted" message, please do the following:
Click on "I understand the risks"
Click "Add Exception"
Click "Confirm Security Exception" (lower left-hand side of dialog box)