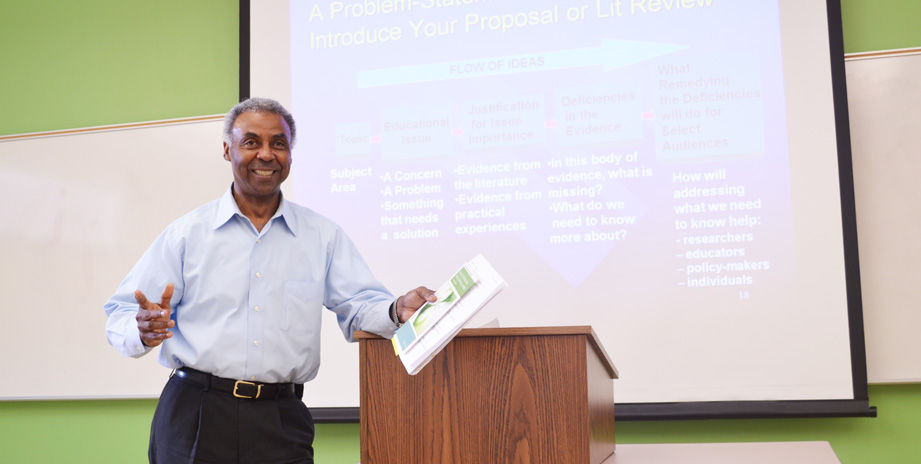 Aurora University offers two EdD tracks: Leadership in Educational Administration, preparing teacher candidates to serve as superintendents; and Leadership in Curriculum and Instruction, readying students for work either in district K-12 curriculum leadership or in educating adults. In a collegial atmosphere, doctoral candidates join a diverse cohort of professionals, establishing both a support network and a wide group of career contacts. The doctoral program features a regular schedule of evening and Saturday classes, allowing students to balance work commitments.
The EdD program aims to develop better practitioners through melding theory, academic study and practice in course readings, assignments and dissertations.  All doctoral candidates receive a strong grounding in research and inquiry. Students may specialize in quantitative and qualitative methods or pursue a mixture of the two approaches. Candidates begin dissertation work in their second-term research class and receive robust support throughout the dissertation process. 
Overview of program requirements
EdD teacher candidates must complete 60-semester hours (beyond the master's degree), including:
42 hours of coursework
Six hours divided between a choice of directed study, advanced research and internship
12 hours of dissertation
After two years of coursework, students take a research-oriented comprehensive examination, involving three issues that face the education profession. Doctoral candidates must complete the program requirements between three years (minimum) and six years (maximum) from the date of enrollment in the program.
Currently accepting applicants for Fall 2014 EdD Cohort.
Contact Marcia Gaspari for admission details, 630-844-4643 or mgaspari@aurora.edu