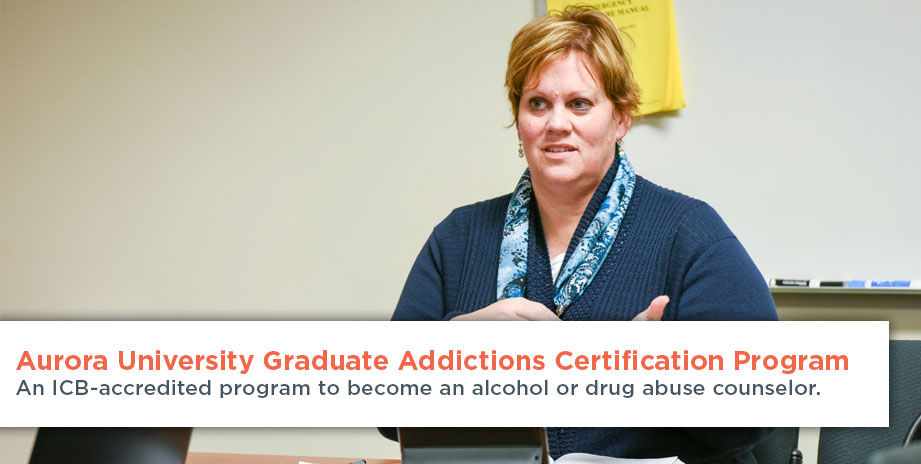 This program is offered on the Aurora campus and at Woodstock Center.
The Woodstock Center Graduate Addictions Certification program is designed to meet the Illinois Certification Board (ICB) requirements for candidates to become Certified Alcohol and Other Drug Abuse Counselors (CADC) in Illinois. The program can be completed as a specialization within the Master of Social Work program, or may be completed by students who already hold a Master of Social Work or related degree. Undergraduate students in the AU social work program also may complete the certification. The requirements can be completed in one calendar year or extended to three years at the Aurora campus or Woodstock Center.
Application requirements
The applicant must have earned a Bachelor or Master of Social Work degree from a CSWE-accredited program or degrees in other disciplines may also be accepted upon transcript review.
Applicants must submit:
A graduate application (obtained online or from the Center for Graduate Studies/Woodstock Center) for the Graduate Addictions Certification program
Two letters of recommendation from professionals in the field
An official sealed transcript denoting the BSW or MSW degree. For all other applicants, submit official, sealed transcripts from all prior colleges and universities attended.
These materials should be sent to the Center for Graduate Studies (Aurora candidates) or Woodstock Center (Woodstock candidates). When all components of the application package are received by the Center for Graduate Studies, it will be reviewed by the School of Social Work Admissions Committee.
Once admitted, applicants must interview with the School of Social Work Addictions Training Director or designee. The purpose of the interview is to review the applicant's transcript for course content that is required for the Graduate Addictions Certification program.
Academic requirements
The student must maintain a grade-point average of at least 3.00 for the entire course sequence.
The program must be completed within three academic years after being officially accepted into the certificate program. Any modification in the program completion plan must have prior approval of the addictions training director.
CADC requirements
The School of Social Work is accredited by the Illinois Certification Board (ICB) at the advanced level. Upon completion of the program, you are eligible to sit for the CADC certification examination. Certification and testing information for the CADC exam can be found on the ICB website.
If you have any questions or need further information, please contact the Woodstock Center at 815-337-6051 or Laura Donavon at 630-947-8943 or ldonavon@auora.edu.
Request Information
Loading...