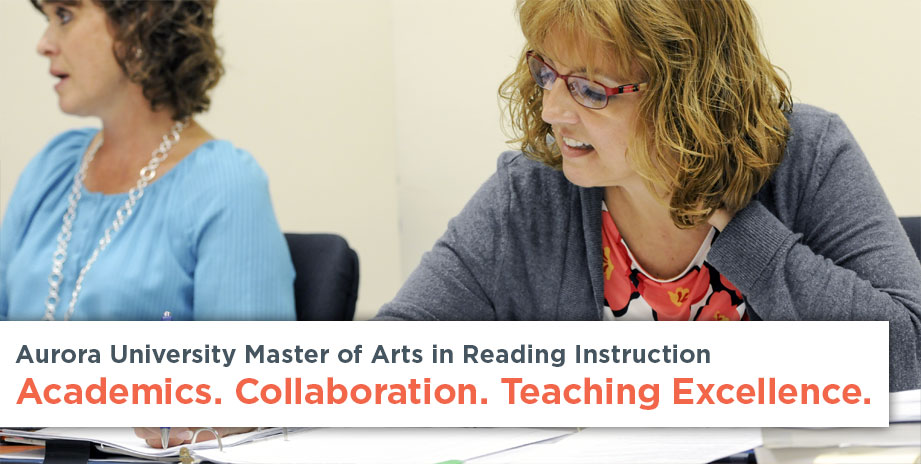 Academics
The Master of Arts in Reading Instruction and Reading Endorsement programs provide experienced teachers with opportunities to link literacy theory to practice. In the program, you will engage in activities with your colleagues, K-12 classroom students and other school personnel to gain the knowledge and skills necessary to effectively assess and tutor struggling readers. The ISBE -required practicum, arranged by the university, will provide you with hands-on experiences, while the leadership courses embedded in the program will assist you as in assuming school- and district-wide responsibilities as a literacy coach or reading specialist.
Collaboration
The primary goal of the endorsement and master's program is to prepare you to gain the skills necessary to inspire engaged and successful lifelong readers. The full degree and endorsement programs are offered in a cohort format with district and regional office of education partners, where you will learn alongside peers who face similar challenges and who aspire to take on similar roles. Whether working with K-12 students or in a collaborative role with teachers, reading coaches and specialists can impact the lives of many.
Teaching Excellence
All courses within this program are delivered by credentialed faculty with extensive experience as reading specialists. You will gain knowledge in instruction, assessment and leadership from highly qualified practitioners, principals and district reading specialists.
Find a Cohort Near You
To learn more information about cohorts forming in your area, complete the form below.
Loading...