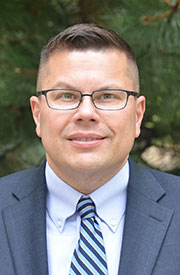 Dean, Dunham School of Business and Public Policy;
Associate Professor of Communication

Office Location:  Dunham Hall 231
Telephone: 630-844-5614
Email Address: tarquett@aurora.edu

Overall, as a teacher I would say that my approach to teaching is rooted in a hybrid of various teaching traditions. However, at the heart of my teaching philosophy is a deeply rooted belief that my most important role as an educator is to cultivate a community of learners. This commitment to a community of learning extends to outside the classroom. I want students to leave my classes excited to continue learning about the subject matter of those courses. I want students to see connections between the classroom and the real world.  

Education
PhD - Northwestern University - Communication
MA - Baylor University - Communication Studies
BA - Wayne State University - Liberal Arts (Economics)

Areas of Specialization
Persuasion and Rhetorical Studies
Strategic Communication (Public Relations, Advertising)
Communication Research Analysis and Design
Communication Economics
Communication Policy
Interpersonal and Group Communication
Organizational Communication
Digital and Social Media

Courses Taught
Argumentation and Debate
Persuasion and Consumer Culture
Professional Communication
Public Relations
Strategic Writing and Production
Strategic Campaigns
Communication Research
Intercultural Communication
Organizational Communication
Communication Project Planning
Communication Project Implementation
Media and Society
Special Topic: Digital and Social Media
Global Justice
Culture, Diversity and Expression
Highlights of Publications, Honors and Professional Contributions
Arquette, T. (Dec. 2012). Fit for Kids Grant: Assessment of the Diffusion of Healthy Living Practices from the Workplace to the Home and Family. Grant Proposal to Kane County Health Department.
Arquette, T. (Oct. 2012). Problem-Based Learning as a Method to Higher Order Cognitive Learning the Case of Oral Argumentation & Inquiry. ACCA Symposium.
Arquette, T. (Oct. 2008). Assessing Critical Thinking in the Communication Curriculum. ACCA Symposium.

Recipient of the Miller Outstanding Dissertation Award, National Communication Association (2002)

Arquette, T. (2002). Executive summary: Social discourse, scientific method, and the digital divide: Using the Information Intelligence Quotient (IIQ) to generate a multi-layered empirical analysis of digital division. Report to the National Science Foundation.

Recipient of the Social Science Research Council Award, IT and Global Conflict group (2001).

Highlights of Campus Involvement
Faculty Advisor and Director, Aurora University Honors Program
Vice-Chair, Aurora University Faculty Senate

Other Interests
Providing mentoring and service learning experiences for Aurora University students in culturally diverse communities that have demonstrated need (e.g., homeless shelters, food pantries, public health campaigns, etc.).