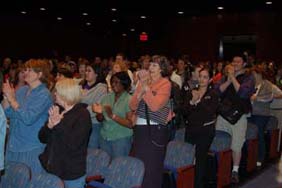 You don't have to be a student to experience Aurora University. Our campuses in Aurora, IL, and Williams Bay, WI, offer community members many opportunities to interact with AU:
The Aurora campus offers regular events, such as concerts, art, theatre and educational forums at:
Crimi Auditorium
Perry Theatre
The George Williams College campus features:
Community members also benefit from the:
Aurora University Human Resources Institute: HR professionals may attend free workshops, covering a wide variety of HR issues.
Bistro Speaker Series: Held at the GWC campus, these informative and engaging talks are open to community members.
Literacy program: Adults can learn to read through this program, thanks to the involvement of our student-athletes.
Student fundraising events: Not-for-profit organizations receive funds through events such as Bowl-a-thon, Battle of the Bands and a Bags Tournament.