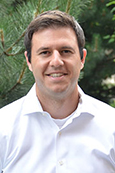 Amir St. Clair, Executive Director of the Wackerlin Center for Faith and Action

After serving in multiple positions across campus, Amir joined the Wackerlin Center as its Executive Director in 2017, and oversees the mission and work of the center. With a passion around leadership development and experiential learning, Amir has focused on shaping the Wackerlin Center to support one's vocational journey, by providing student-centered programming that can create those moments for students to discover what matters. In addition to his role at the Wackerlin Center, Amir also teaches in the Leadership Studies program and serves on various administrative committees. He earned a Bachelor's degree in Religious Studies and Philosophy from St. Norbert College and a Master's of Leadership Studies degree from North Central College.
To contact Amir, call 630-844-7556 or e-mail astclair@aurora.edu
---

Barbara Calvert, Director of Programming
Barb joined Aurora University in 1997. Prior to working at the Wackerlin Center, she served as the Director of Alumni Relations for eight years and held a variety of roles in Student Life for four years. She is also an Aurora University alumna and holds a bachelor's degree and MBA from the university.
The Wackerlin Center is a central resource on campus for students seeking volunteer and service opportunities. It provides students with a creative environment for the development of programs and initiatives that focus on service and volunteerism. Barb works closely with students interested in serving others in the community as well as organizing large-scale volunteering events, such as Morning of Service. She also played a large role in the development of Volunteer Fox Valley, a virtual volunteer center created in partnership between the Wackerlin Center and the Fox Valley United Way. Volunteer and other community-driven opportunities help students see the need in the world around them.
To contact Barb, call 630-844-6865 or e-mail bcalvert@aurora.edu
---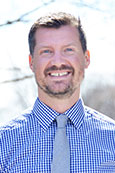 Dain Gotto, Director of Vocation Programming
Dain began working in the Wackerlin Center in April 2018 with a focus on helping students discover what matters. Throughout his ten years working in student involvement at a variety of universities, Dain has observed the impact experiential learning opportunities can have on student growth and career success. He is dedicated to helping students identify their strengths, values, and passions to discover their life's calling or vocation. Through his work, Dain hopes to help students live a meaningful and productive life. Dain earned a Bachelor of Arts in History from Elmhurst College and a Master of Science in Student Affairs in Higher Education from Colorado State University.
To contact Dain, call 630-844-6177 or e-mail dgotto@aurora.edu.
---

Mark Woolfington, DMin, Chaplain

Mark joined the Wackerlin Center staff in July 2015, to serve as the Interim Chaplain. After graduating from AU in 1993, he went on to earn a Master of Divinity from Southwestern Seminary in Fort Worth, TX, and then the Doctor of Ministry from Fuller Seminary in Pasadena, CA. Ordained in the Advent Christian Church, he has served congregations in Texas, California and Illinois. In addition to the local church, Mark has worked as a hospital chaplain, and been involved in several local service organizations, including Kiwanis and Boy Scouts. He currently serves on several committees for the Advent Christian Church. Mark is excited to return to AU and begin serving students and the greater AU community.
To contact Mark, call 630-844-6175 or e-mail mwoolfington@aurora.edu