Now Available for checkout at the Wellness Center: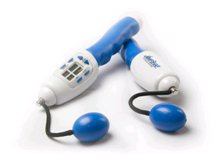 JumpSnap is a "rope-less" jump rope that anyone can use. Since there is no chance of getting tangled in the rope, hitting something or someone with the rope, there is no chance of tripping! The JumpSnap even has a display which tells you how many jumps you've done, calories burned and how long you've been jumping!
Check out JumpSnap along with its instructional DVD for an hour at a time. Simply sign out the JumpSnap from the Wellness Center and enjoy the workout in the Fitness Center. JumpSnap's instructional DVD has a beginner's workout of 8 minutes and an intermediate workout of 12 minutes!