Healthy Monday Campaign
You have 52 opportunities a year to make Monday the start of a healthier life.
What is "Healthy Monday"?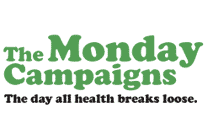 Healthy Monday is a non-profit public health program associated with Columbia University, John Hopkins University and Syracuse University. The goal of the program is to end chronic preventable disease in the United States by encouraging people to use Monday as a day to start and sustain healthy lifestyle behaviors.
Why Monday?
Research performed by Healthy Monday movement suggests that people already treat Monday as a "fresh start", a day more likely to set healthy intentions, and as a day to organize their lives and week around; all of which support Monday as the perfect day to make a positive change in your health.
Healthy Monday Motivators
Need some help getting started? Check out a few Healthy Monday programs:
Check out our Health Information page for additional idea!