Welcome Weekend 2021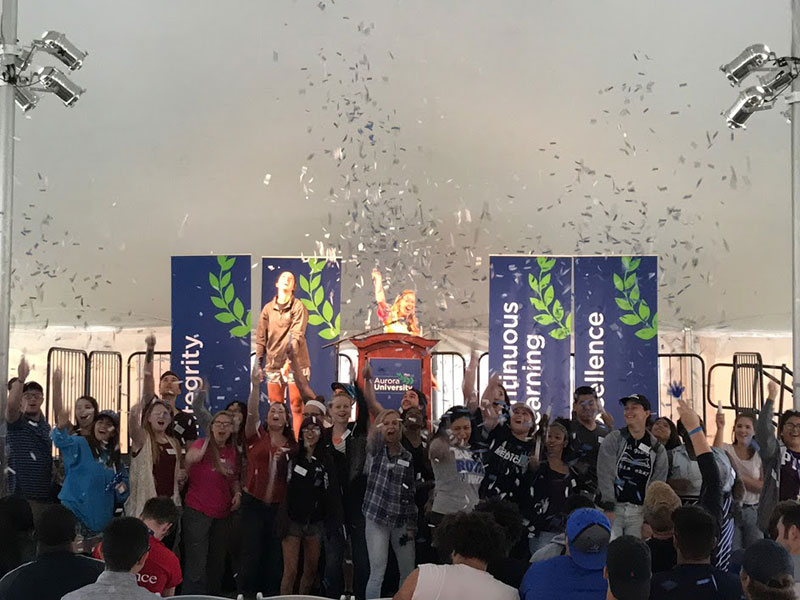 Welcome Weekend is your orientation to life at Aurora University. For incoming first-year students it is a mandatory part of the First Year Experience (FYE) course that you are enrolled in. Contact studentactivities@aurora.edu with any questions. Welcome Weekend 2021 will be August 19-22. Watch your AU email for more details!
Transfer students are welcome to attend a portion of Welcome Weekend on Friday, August 20. For a transfer orientation schedule and registration information, click here.


Welcome Weekend 2021 Schedule
Thursday, August 19
| Time | Event |
| --- | --- |
| 8 a.m. | Resident Student Check-In / Move In Begins |
| 10 a.m. | Parent Information Session with Dr. Sherrick in Tapper Hall |
| 11 a.m. | Parent Information Session with Dr. Sherrick in Tapper Hall |
| 12 p.m. | Parent Information Session with Dr. Sherrick in Tapper Hall |
| 12:30 p.m. | Commuter Student Check-In Begins |
| 2:30 p.m. | Kickoff and activities on Vago Field |
| 6 p.m. | Welcome picnic and games on the Quad |
| 7:30 p.m. | Evening meetings, games, and fun |
Friday, August 20
| Time | Event |
| --- | --- |
| 9:30 a.m. | Gather with your peer group |
| 10 a.m. | Meet the Faculty |
| 11:35 a.m. | Lunch |
| 1 p.m. | Rotating Sessions |
| 5 p.m. | Dinner |
| 6 p.m. | Evening Socials |
Saturday, August 21
| Time | Event |
| --- | --- |
| 9:30 a.m. | Gather with your peer group |
| 9:45 a.m. | Academic Meet and Greets |
| 11:45 a.m. | Lunch |
| 1 p.m. | Rotating Sessions |
| 5:10 p.m. | Closing Ceremony |
| 5:30 p.m. | Dinner |
Sunday, August 22
| Time | Event |
| --- | --- |
| 12 p.m. | Shopping Shuttles to Orchard Road (through 4 p.m.) |