AUSA Executive Board Members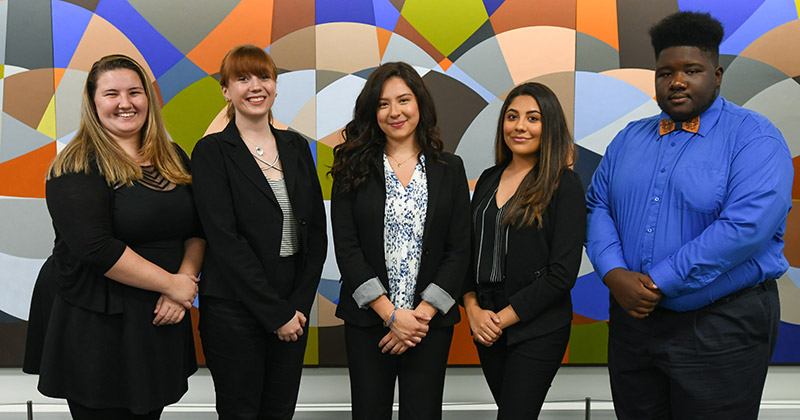 Kira Mollohan, Treasurer
My name is Kira Mollohan. I am double majoring in Psychology and Criminal Justice. I live in Aurora, IL, about a mile down the road from AU, so I commute to school. I am a Senior who is a Peer Advisor and the Treasurer of AUSA. I wanted to be a voice for change, and therefore I joined AUSA. I wanted to be the person for students to come to when they have a concern at AU. Please contact me at kmollohan01@aurora.edu with your concerns.
Hannah Carter, Senate Chair
Hello, everyone! My name is Hannah Carter, and I'm a junior nursing major from Montgomery, Illinois. My goal as a member of AUSA is to educate students - not in the traditional classroom sense, but to educate them on how to use their voice to advocate for themselves and others. Please contact me at hcarter01@aurora.edu with your questions or concerns!
Ileana Ascencio, President
Hello Spartans! I am Ileana Ascencio, and it is with great honor and privilege that I serve as your 2019-2020 student body President. I am a Jr2 Nursing student that commutes from Oswego, IL. Outside of AUSA, I serve as the Vice President of the Student Nurses' Association and work as a Peer Tutor at the ASC. I joined AUSA as a shy Freshman in hopes of learning more about my university. Four years later, I can whole-heartedly say that AUSA has given me the confidence to blossom and find my voice. I discovered that I have a passion for impacting lives positively by advocating for others. My purpose as President is to give students the confidence and motivation to ignite their passions while discovering their voices. I want to empower all students to seek the proper resources so that they can create their own unique paths at Aurora University. Please contact me at iascencio01@aurora.edu with any questions, concerns, and feedback! It is my pleasure to commit myself to working with all of you to find solutions and to ensure that your Spartan experience is a great one.
Judith Barajas, Secretary
I am a junior Social Work major here from Aurora, Illinois. Apart from AUSA, I am also a member of Lambda Theta Alpha Latin Sorority, Incorporated. Giving back is close to my heart and in both organizations, I am able to give back to my community and fundraise for charities. In my free time, I love listening to podcasts and having movie nights with my closest friends. If you ever have any concerns, please do not hesitate to contact me at jbarajas03@aurora.edu.
Malik Vandyke, Vice President
Hi everyone! My name is Malik VanDyke and I am the Vice President of Aurora University Students' Association. I am from Chicago, Illinois. I am majoring in Secondary Education History. Aside from AUSA, I am a Resident Assistant for Watkins. I wanted to be on AUSA because it offered a great opportunity to create and see change firsthand on campus. If you ever have any questions or concerns, please contact me at mvandyke02@aurora.edu.