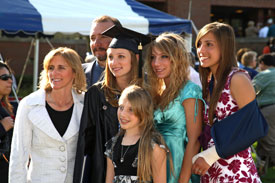 We understand: You're considering entrusting AU with your student's future. We want to try and ease your mind, so here are a few things for you to know.

By attending AU, your student will benefit from a university that offers:
Strong academics
Preparation for a life of meaning, leadership and service
Expert, mentoring faculty
An extraordinary value

Information is power
Our Web site is packed with information to help you and your student sort through admission and financial aid procedures. It's also a good place to read about AU's points of pride so that you can compare apples to apples when looking at other schools. If you're concerned about campus safety, know that we have that covered, too.

To help you, we've gathered tips from other parents — people who have been right where you are, walking that fine line between parenting and allowing your student to decide on his or her own which college is best.

Visit Campus
The best way to ease your mind — and that of your student — is to visit our campus.

Contact Us
As you explore the possibility of AU for your student, please contact us with your questions, concerns and comments.