FAQs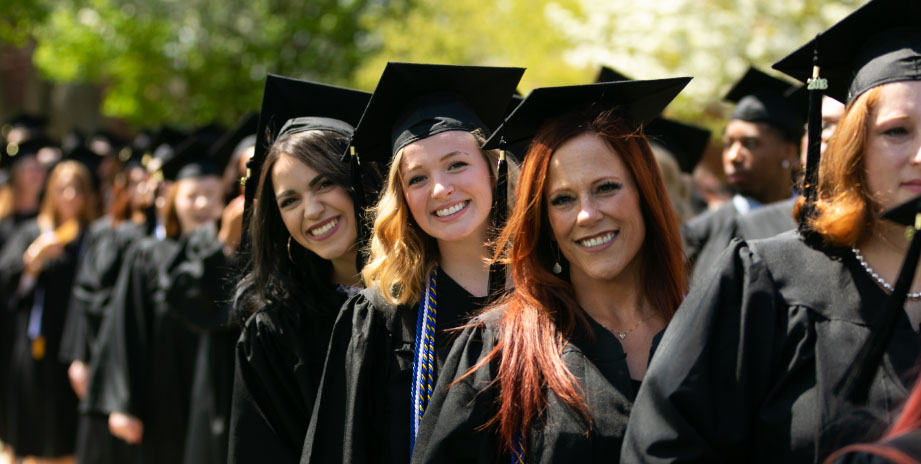 Graduation Policies and Procedures
Diplomas and Transcripts
Once you have completed the requirements for your degree, submitted the graduation survey and satisfied all outstanding financial obligations, your diploma will be released for delivery according to the Registrar's Office timeline. Survey links will be sent to May and August candidates on March 20, 2019.
Diplomas for May 2019 graduates will be mailed approximately August 1, 2019.
Diplomas for August 2019 graduates will be mailed approximately November 1, 2019.
The diploma reflects the degree earned, i.e. Bachelor of Science. Majors and minors are noted on the official transcript.
Official transcripts can be requested four weeks after the commencement ceremony. These transcripts confirm that all degree requirements have been met and indicate the earned degree. An official transcript is the verification document typically asked for by employers. All transcripts are requested from the Registrar's office. To request an official transcript, please fill out the request by logging in to WebAdvisor. Please be sure to select the option "After Degree" to ensure your degree is noted on the transcript.
Students that need to update their diploma mailing address (address after commencement) must send an email to registrar@aurora.edu from their AU email address. This will not update the current mailing address in WebAdvisor. Those wishing to update their mailing address should do so in WebAdvisor only.
Ceremony information - Sunday, May 5, 2019

The academic processional will start promptly at 9 a.m. for the Graduate Commencement Ceremony and promptly at 2 p.m. for the Undergraduate Commencement Ceremony. All invited guests should be in their seats by the start of the ceremony. Late arrivals will be seated after the processional is complete (approximately 15 minutes). Also, anyone who leaves the seating area just before the processional will not be re-admitted until the processional is complete.
Once graduates are seated, guests are expected to remain in place during the entire ceremony. Ceremonies generally last 2-3 hours each. Seating is relatively crowded and movement can be inconvenient for others. Persons who leave the seating area may not be allowed to return to avoid disrupting the proceedings.
Academic regalia information
Commencement is a formal event at Aurora University. Academic regalia (cap or mortarboard, academic gown, and master's or doctoral hood) must remain unaltered.
Some Aurora University undergraduate students have been inducted into national honor societies and may wear their academic honor cords at the commencement ceremony. Gold Ivy medals and nursing pins may be worn. Social organization stoles are not to be displayed during the ceremony.
We would also ask that you refrain from wearing corsages or any other adornments on your academic regalia until the ceremony is concluded. Thank you in advance for your cooperation!
What to wear
The robes are black, so color matching is not a problem. Wear lightweight street clothes in dark colors. For men, a light-colored dress shirt with a necktie is appropriate. Wear comfortable, dark-colored dress shoes. Women: Do not wear high heels, as you will be walking on uneven grassy areas. Do not bring purses, jackets, flowers, or any other items that cannot be carried in the pockets of your regular clothes underneath your Commencement gown at the time of lineup.