Celebration of a Spartan Win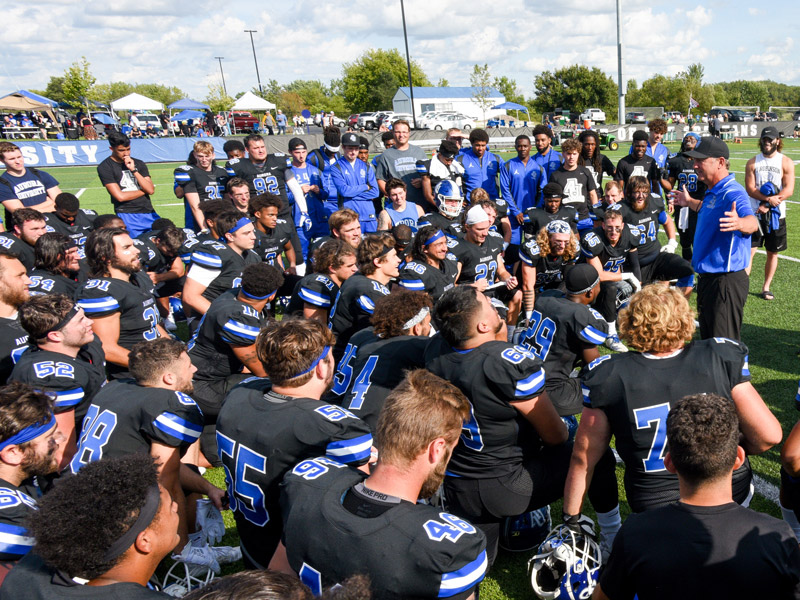 So what does it mean to pass on fourth down? It means you are "Authentically AU!" Welcome to my new blog. I look forward to sharing views on life at Aurora University (and beyond). In addition, I will provide campus updates. As our university continues to grow, it can be hard to get the news out to everyone in a timely way. My goal is to make this better and to share a few reflections along the way.
Back to the football game. On Saturday our Spartans posted an impressive win over a nationally ranked team from St. Norbert College. The afternoon started with an SNC touchdown, and then our offense went to work. The result was an aerial blitz unlike any I've witnessed from an AU football team. Though I appreciate a strong running game and great defense, I too love a passing offense and the excitement produced.
It was great to have an AU Hall of Famer handle the coin toss. Years ago, when AU decided to establish a football program, Coach Jim Scott took the job and built a juggernaut. I remember some wonderful NCAA playoff games in my early years as the Spartans played tough against opponents such as Wooster and Wittenburg. Thanks for joining us on Saturday, Jim. It was good to see you on the sidelines again and to have Lorraine in the stands.
When new head coach Don Beebe decided to go on fourth down, I knew he had confidence in his team and their ability to execute. He delivered a powerful message to his players and to his fans. He told all of us that the Spartans were ready — early in the game and early in the season. We never know when an opportunity to "deliver on fourth" will come. To be a Spartan is to be ready for such moments and then to step up and deliver. Go, Spartans!


Rebecca L. Sherrick, PhD
President